Discussing the main types of roof waterproofing and the ways of performing them with your own hands.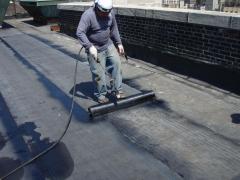 Roof waterproofing is one of the essential steps of roof care. Today we have excellent modern materials of high-quality. Choosing them you can be absolutely sure that your roofing will not leak after the first shower. You should remember that waterproofing of flat roofs and waterproofing of pitched roof need different materials and different method of installation.
Quality of roof waterproofing influence on its insulation, security and exploitation of the entire roof. Don't forget that moisture can also appear in the form of steam collected in a roof space, not only from the outside. You should consider this while choosing the waterproofing type.
There are the following roof waterproofing systems according to the method of their use:
waterproofing perforated film (hydro barrier), anti-condensate film;
polymer membranes;
hydrophilic rubber;
surface waterproofing (acrylic, bitumen, silicone rubber, polyurethane mastic, etc);
sprayed waterproofing materials (poly urea, acrylic formulations, the liquid rubber, etc);
injecting materials (polyurethane, silicate resins, cement, emulsions, etc);
penetrating materials.
Let's talk about the most popular methods of roof waterproofing.
Polymeric membranes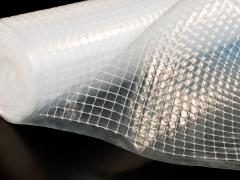 It is one of the newest technologies on the market of waterproofing materials nowadays. There are PVC membranes, PDM-diffuse membranes and diffuse membranes. Diffuse membranes are suitable for all types of roofs. They are the best choice for attics. The anti-condensation membrane with a non-woven fabric absorbing the entire condensate – the best option for the metal roof and tiles. Membrane's life is up to 25 years, they also have high fire and environmental safety.
PVC membranes are multifunctional. This is a good material for building a new roof or for repairing the old one. Waterproofing membranes with their many advantages and available costs become a real pleasure to deal with.
Membrane film consists of three components: a layer of PVC of the chosen color, reinforced polyester layer and another grey PVC layer.
Membranes are sold in narrow rolls. They can be attached either by the method of ballast or being stuck. The ballast method suits for roofs with a slope angle of up to 10%. The membrane is placed on the roof, then it is attached, and then it is poured with gravel or crushed stone. The method of stripping the roof is also often used in the construction. If you can not create additional pressure on the roof, you can use mechanical fasteners: nails, screws, staples. If the roof has a complex configuration the membrane is stuck.
PDM-diffuse membranes are not only multifunctional (they are suitable for all types of roofs), but they are also suitable for the most arched roofs, for roofs with any angle of slope. Sheets membranes are stacked one by one, the adhesive tape is provided for the joints.
Coating waterproofing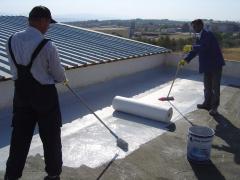 According to the composition of mastic materials there are:
bitumen-polymer mastics;
polymer mastics;
bitumen-rubber mastics.
By way of application mastics are divided into hot mastics (the ones that need to preheat to 320 °F) and cold mastics (they do not need preheating).
The most popular mastics are primarily made of bitumen and different by-products containing it. On the roof surface you should create the coating of about 0,5 inch. But as time goes by bitumen sheets loses plasticity and can be slowly destroyed. Its average lifetime is about 5 years.
Bitumen-polymer mastics are of a new generation of roof waterproofing materials. Their price varies from $30 to $100 dollars for working on about 3-4 square feet.
Recommend: How to calculate square footage of a roof
There are the following types of bitumen-polymer mastics:
diffuse mastics;
super diffuse mastics;
anti-condensation mastics.
Mastic is the best option for flat roof waterproofing, as well as for the roofs with a minimum angle of inclination. Mastics suit perfectly to concrete, wood, metal. Their average life is not less than 20 years. Its application will recall you the creation of self-leveling floors.
Paint waterproofing
This is the application of bitumen and polymer coatings, paints or emulsions on your roof coating. Paint waterproofing can be applied by hand or can be sprayed. You should do it creating 2-4 layers for greater strength. The thickness of the waterproofing layer is only about 1-1,5 inches. Over the fresh insulation fine sand is sprinkled in order to cement the coating. The average life of paint waterproofing is about 5 years. When you choose the materials, it is highly recommended to prefer the plasticized polymer modified compositions.
Waterproofing foil
This is the easiest and the cheapest way of roof waterproofing which is used for pitched roofs – slate, pile, metal roofs. It is more often used for insulation of attics and lofts with mineral wool and polystyrene.
We hope that this article has helped you with your choice of roof waterproofing performing.
Recommend:
Important moments how to replace a roof tile without damaging the rest.