Smooth or textured roof tiles can work with almost any home and transform it completely! There many important nuances of how to replace a roof tile.
Although tiles are fairly durable roofing materials, they require periodic repair and replacement. Repair process is infrequent, but a homeowner should be prepared for this situation. There is nothing eternal in this world, and the tiled roof is not an exception of this rule! How to replace a roof tile if it is damaged or lost its nice look?
Quick tile repairing. The action plan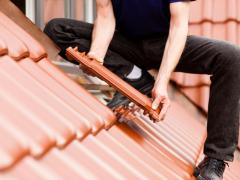 Naturally, before to repair, you have to clearly understand how to replace a roof tile and how much work you need for its performing.
The first step is to inspect the inner roof surface. Explore beams and rafters. Check the moisture inside surface and, if present, make a chalk mark. Leakage in one place speaks of cracks in tile or places of waterproofing violation. Leaks in different locations indicate the poor material quality or poor-quality of laying work. Such an inspection should be carried out immediately after rain.
Next, inspect the structure outside. Explore tiles for cracks and shifts. Inspect all joints and junctions of tiles to other roof elements (antennas, chimneys, multiple ribs).
Lift edges of adjacent tiles (above and right ones) with the help of easy driving in wooden wedges. With the help of a trowel hook the damaged tile and pull it out of its row through efforts "to the left and up to yourself".
Place a new tile instead of the old one, setting it back in the "lock". Remove wedges. The operation can be carried out by two people, when your assistant lifts adjacent tiles at the bottom (attic), you can easily pull out the damaged one and make the replacement.
But what to do if you prefer to know how to fix a broken roof tile? You should lubricate with glue bend places and drive in nails in the damaged angle. Coat cracked elements inside and outside with the glue.
Broken materials is treated similarly, but then drive in nails in both pieces. Under broken tiles cut a piece of aluminum waterproofing and insert as far as possible under the next part of the main material, and then drive in nails with tarred hats. You may sweep them under the carpet with concrete solution for better fixing.
Also read: How to walk on a tile roof
Hardener replacing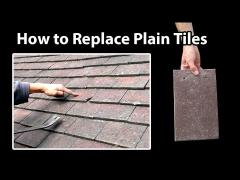 Over time, the lime mortar can be crumbled between plates, which will lead to leaks, and repairing process becomes inevitable. In this case, resulting gaps are removed with putty, or you should change the entire solution.
When you replace joints they should be cleaned from the outdated putty. Next, the prepared solution is applied with a trowel.
Use the following composition of sand and lime mortar: 1:2 (lime mortar:fine sand). To improve the solution you may add there some flax tow. This mixture is excellent and embeds small cracks in roof materials, eliminating the replacement need.
Installing new elements, remove the old lime mortar with neighboring details, and only then apply the prepared mixture.
Cross joints series of tile rows are smeared on the lower side (the attic). The entire tile junctions to the roof elements (pipes, windows, antennas, tube) are coated on the outside.
Strengthening the roof frame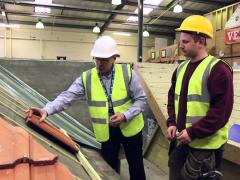 Under its own weight, or weight of snow roof tiles can sag. In this case, you need to tie rafters with boards (thickness of 1,5-2 inches, width of 6-7,5 inches), fastening at once 3-4 rafters. To avoid the damage of laying in this area it is better to take off the tiles.
Taking care of the roof safety should be at the stage of assembling its structure. It is much delay and facilitates the urgent or planned repair.
Restoring the waterproofing
If waterproofing on the tile basis is broken, you should perform the following manipulations:
Remove fasteners on tiles (staples, clamps or screws)
Remove roof tiles at the desired location using a wooden wedge and trowel. Removing these elements, you need to move them from bottom to top. The repairing is complex process and requires accuracy and consistency.
Remove nails securing the uprights to the rafter lath. Using a hacksaw, cut slats on the problem areas. It is advisable to place a lining of cardboard under slats to avoid the completely waterproofing damaging.
Remove the damaged section (or other roofing material) by a mounting knife and place clay mastic on a patch.
Soak new slats with the help of antiseptic and strengthen them with nails in rafters.
Proceed with the installation of tiles, moving from bottom to top and from the right to the left, from the eaves to the ridge along the roof. If necessary, replace damaged details.
Finally, for an additional protection, it is desirable to cover the structure surface with special silicone resins for tiles, which can be found in stores.
Sooner or later any homeowner for this structure type will need the information of how to replace a broken roof tile. And despite the apparent complexity, it is quite capable for making by a homeowner himself.