Any homeowner wants his home and roof to be reliable and inexpensive. To eventually obtain a qualitatively housing, you should use the knowledge of how to shingle a roof.
Choosing shingles for a roof, you must place it correctly. Only high-quality skills of how to shingle a roof allows this covering not to deteriorate during many years. This material is suitable for pitched roof at any angles, including even vertical surfaces. An exception here can be flat roofs. But the main thing that it allows you to cover curved and geometrically complex shape of roof constructions.
Shingle benefits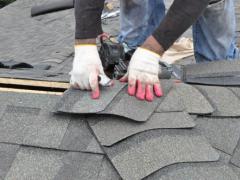 This material owns the main advantage – it is lightweight and has small cost, allowing building a foundation and a house itself not very massive. Due to this fact there is an economy on construction materials and payment for work. Inexpensive cost of roofing materials allows you to compete with complicated construction forms.
Other advantages:
High frost resistance.
Resistant to strong winds.
Good tolerance of extreme temperatures.
High heat resistance.
Color constancy over times.
Resistance to a variety of precipitation.
Preparatory work before laying process
For the base under tiles you should use:
Waterproof plywood.
Boards.
Oriented strand boards.
In addition, you need for the installation:
A lining carpet. For a new roof you can use any bituminous material. If it is old, so use here roofing material.
A carpet for the roof valley. It is used for waterproofing of contiguity to the ventilation of pipes and walls.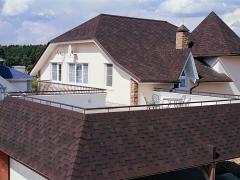 Using all necessary materials and tools you can begin preparatory works before laying the shingles.
First, the vapor barrier film is fixed on inside part of the roof. It is nailed and attached to the ends of wooden slats. Film strips are fastened with scotch.
On the outside the insulation is stacked. To fix it to the rafters, use wood pieces. On the top of insulation a windproof film is placed. Then stack boards, plywood or OSB, fixing by screws.
How to install roof shingles?
Initially, you should spread a lining carpet around the construction perimeter, nailing along to:
eaves,
valleys,
front overhang,
ridge,
fracture places of the slope.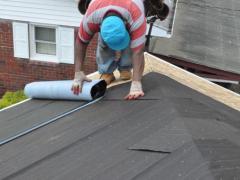 If a structure has a slope more than 20 degrees, a carpet is spread along the whole area. Start from the bottom, spreading a carpet perpendicular to the lathing. Nail in the overlap way to the width of 6 inches with a step of fixing 8 inches. All connections are covered with sealant or bitumen mastic. On a carpet top nail a cornice strap protecting a lathing from moisture.
Then nail end planks to the gable. For their better connection it is necessary to trim edges with scissors, and finally consolidate. Likewise fit planks to the ridge. They protect the wooden lathing and expel down water from the ridge.
Cover shingles on the top of nailed plank. They are nailed retreating from the edge 1 inch by joint to joint. Coat with bitumen mastic these places. Then carry out the mounting of brackets, which are intended for gutters.
A valley carpet is overlaid with a second layer over the main. Spread them in places where moisture can accumulate in junction niches. Fix it with galvanized nails and coat edges with mastic.
And now there is the most important step of how to shingle a roof – the laying process. Start laying process with the slope central part. After removing the protective film from this place, you need to strongly press it to the ground. On its top place four nails. Here recede 2 inches from the strip of shingles. The perforation of strip eaves in fact should be completely closed with petals of sticking tiles. Its lines are cut along the gable edges and glued with mastic.
The final process of how to shingle a roof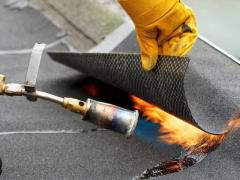 Lay out tiles row upon row. The mounting process is performed in such a way that all the materials are placed in the same level and could close the nails. The ridge is closed by eave shingles. To do this, separate them and tear along the perforation. Take off the film from the adhesive side and place on a ridge, bending in the middle in a way that the short tile side could be parallel to the ridge. With the help of tiles drive in nails on the side, hidden under the next tile. You need to drive in nails thus: two in one side of the ridge, two – in other. Many professional builders prefer to mount an aerator on the ridge that creates the attic additional ventilation.
Therefore, if you properly observe the technology of shingles laying, such a roof can last for a very long time. To make your roof not to overgrown with moss, it is necessary every five years to clean it and wash with antiseptic means, and monitor the condition of the ventilation openings.