Many residents of big cities are now increasingly thinking about buying or building a private home away from the bustle and closer to nature. Some people will use it solely for relaxation, and others want to move there forever. How to build a house step by step? What are the main home construction tips?
The house building is not so simple, and in order to the implementation of this process may not be seemed as something too distant and impossible, it should be divided into stages and carefully analyzed. Before the learning how to build a house you need to select the building plot and create a project for the construction.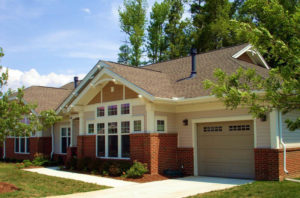 Special companies will always help to make a project that needs a specific customer. If you have special skills and knowledge, you can create a project on your own, and this will be the most effective solution. But remember that it is better to play it safe and entrust this work to professionals rather than later to fail when the construction is almost completed. If all the preparations are completed, you can start the building process.
Following building materials for the house construction are especially popular today:
Wood. Wooden houses are now in fashion again. This type of homes is built fast and it is environmentally friendly. Its downside is a fire hazard and readily combustible material type. However, this problem can be easily solved with the help of special fire-fighting equipment.
Brick. It is the most reliable material for a house, but also one of the most expensive. A brick is resistant to fire and incredibly durable. This material will serve faithfully for decades.
Concrete blocks. Their heat insulating characteristics are much lower than the brick ones, but also their price is lower. Overall, it is a good option for those who prefer to make a strong and reliable house and still save some extra money. Buildings made of concrete blocks look great over the years and are quite reliable, but need additional insulation.
Foundation installation
A house cannot be created without the foundation that is its base. The foundation should be designed by experts who take into account types, sizes, materials of a construction, especially soil and the depth of its frost penetration, regional terrain.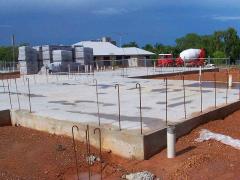 Types of foundation:
The foundation construction starts with the excavation. It also includes the installation of a sand cushion. The next step is the formwork installation that is the carcass of the future foundation. For durability and perfect connection in a formwork there should be used an armature carcass. The finished construction is filled with concrete. After concrete hardening this formwork is removed.
Walling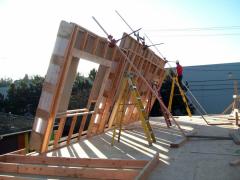 Wall covering can be:
Wooden
Monolithic
Reinforced concrete slabs.
It is enough to lay wooden plank beams in a single-storey home. Two or more storey houses require concrete beams. Speaking about concrete slabs the using of concrete slabs is the easiest way to make this work quickly. Monolithic slabs are more complicated and labor-intensive constructions, but some interesting projects because of their features need exactly them.
Roofing ways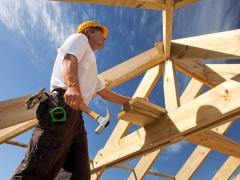 A roof is constructed in two phases: the installation of carcass and then a roof. The roof carcass is made of wooden beams. The roof itself resembles a real layer cake.
As roofing materials there can be used:
metal tiles;
roof decking;
flexible tiles;
composite tiles;
natural tiles;
onduline;
onduvilla
seam roof;
soft roof.
Windows and doors installation
Window openings are placed with plastic or aluminum prepared products in a complete set with sills and flows. Doorways are installed with metal, aluminum or metal and plastic doors. Now up-and-sliding aluminum doors or portals are very popular for cottages and private houses. They look stylish, expensive and they are very reliable and functional.
Finishing choice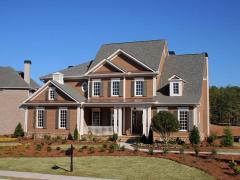 A great choice for facade finishing and decorating can be siding – wood, vinyl or simulated beams, cement, stone and other materials. The next step is mandatory lathing coverage with refractory and antiseptic compositions. Then, the façade decorative finishing should to be performed. The technology of this process depends on selected materials.
House insulation
So you are almost aware of how to build a house. Now you need to qualitatively insulate all parts: a roof, floors, walls. The insulation is inserted between beams and covered with foil for waterproofing.
Fence popular options
A brick fence is inexpensive and very durable construction. It is made for decades and requires no care except current repairs. It should be noted that under a fence a strip foundation is necessarily required, which is not very cheap.
A wooden fence requires appreciable care, regular treatment with protecting compositions. The shape and appearance of a wooden fence are very diverse.
A fence of corrugated board is today's most popular way to create this construction with your own hands.