Basic components of waterproofing cement. Main advantages of cement based waterproofing and helpful tips on its application.
Cement waterproofing is one of the most popular and diverse options for protecting premises from ingress of moisture. Due to availability and relatively simple process of work applying waterproofing cement is possible to carry out with your own hands without involvement of specialists.
The mixture contains three components:
The binder – qualitative cement providing strength of the structure and repelling water to a considerable extent.
Fillers – fine quartz sand.
Polymer waterproofing additive. Polymer additives provide improved adhesion of the composition to the substrate, penetrating deep into the concrete surface and crystallizing in its structure, firmly linking the base with the coating. They improve hydrophobic properties of the cement composition and give elasticity to the waterproofing coating.
Peculiarities of the cement based waterproofing
Cement compositions should be applied to the surface by technique of throwing on. After that the correction and the final alignment are carried out. Cement based coating consists of dry and liquid fractions which are mixed immediately before performing work.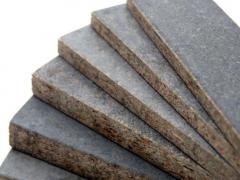 Cement and polymer-cement based solutions are widely used for trimming the foundations, prefabricated concrete structures, underground tunnels, swimming pools and more. The main properties of these unique materials we have arranged in a single list:
high adhesion,
high mechanical strength and abrasion resistance,
vapor permeability,
suitable for indoor and outdoor waterproofing,
can be applied to damp surfaces,
environmentally friendly, harmless to people and animals,
the surface treated with a solution can be finished in two weeks,
high durability,
can be applied on surfaces having a complex shape,
ease of operation,
acceptable price.
Types of cement waterproofing solutions and their application
Insulation with cement putty is used in the processing of the foundations and plinths of buildings, floors, swimming pools, water tanks, stoves of balconies and terraces. The materials are applied to the concrete, cement flooring and bricks, plasterboard, mineral surfaces, metal, wood.
Elastic cement putty is applied to the same surfaces with the higher probability of occurrence of cracks, for example, in bowls of swimming pools, and as insulation in wooden houses. Insulation with elastic cement putty exceeds conventional cement putty insulation in strength.
Penetrating mixtures are a kind of cement putty waterproofing. They contain a large number of polymers. They have the ability to penetrate deep into the cracks and provide high strength under the influence of moisture.
Repair compositions are used for sealing joints and cracks in the concrete.
Hydraulic seal is the most effective compound for sealing active cracks and joints. Carrying out the work is possible even when water is seeping.
Cement boards are another subspecies of waterproofing cement. This material is excellent for sealing the interior premises of the house. They are especially suitable for construction of the bathroom floor. Tiles as well as natural stone flooring are securely fastened to the cement board, which does not swell, rot or delaminate in wet conditions. This material is easy to cut and can be installed along with underfloor heating.
How to use waterproofing cement solutions
Waterproofing solutions can be applied on very uneven surfaces. These mixtures align any types of irregularities on the walls or floors themselves. Ease of operation lies in the fact that there is no need to wait till the waterproofing solution dries completely. In addition, the composition is easy to apply using simple tools: a brush and a trowel.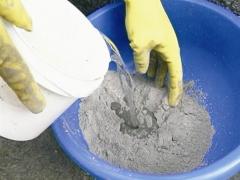 The preparatory stage of work is cleaning. The surface must be cleaned of dust, dirt and various oils. Some manufacturers recommend spending extra preparatory surface treatment with special firming primer with penetrating qualities. And sometimes you need to moisten the surface.
Then cracks and seams should be expanded and densely filled with a special waterproofing compound. The solution should be thoroughly rubbed or puttied into the surface. In regard to the concrete, it is necessary to fill all of the small shells with a mixture. To achieve the most optimal results it is important to apply two or three layers. Applied waterproofing solution should be left to solidify for a day. During this time, the cement base is fully "grasped" with the main building material.
The second and subsequent layers are applied only after the previous one is completely solid. Decorative finishing should be applied only after a certain period of time recommended by the manufacturer of the mixture.