A mobile fence is a simple and effective zoning way of areas and premises with the presence of large flows of people, limiting the vehicle movement and entry prevention on sidewalks.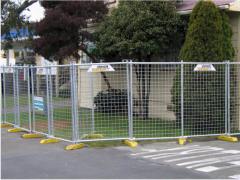 From the structural point of view, this structure looks like a metal frame with welded steel mesh or rods. For convenience, a bottom frame structure has legs. This eliminates the need to excavate while installation and dismantling. Structurally, frames can be connected together into a single unit by different angles that will simplify the installation process.
If these enclosures are made to zone a space inside hotels, business centers, office buildings, then the so-called belt structure can be used. These bars are made of stainless steel, between which a belt is tensioned. They look stylish and make the interior more chic.
The mobile fence scope
Mobile fences are widely used in the following areas:
Construction. Due to a removable enclosure a pit can be clearly protected (this is especially important in insufficient light areas) during the installation of various communications. But this protection is not used here as a defense because of the relatively small height and strength.
Road facilities. In the road construction area it is easy to organize a temporary sphere of the vehicle movement and insulate areas where there is a replacement of asphalt and other repairs thanks to a portable rack fence.
Housing sector. Mostly these enclosures are used in the organization of mass entertainment and sport events in order to prevent a stampede, clear division of space and exit avoiding of spectators at the forbidden territory for them.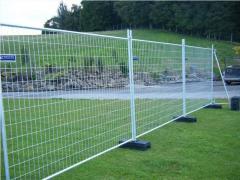 Mobile fences have long been used as the aesthetic and not massive elements for preventing the access of people on a particular territory. They are widely use in various exhibition centers and museums, where it is necessary to ensure the safety of the exhibits and at the same time not to interfere with their inspection. These products are very ergonomic, easily fold and do not require much space for keeping. They are able to fit perfectly in all kinds of interior, whether it is a luxurious modern museum hall or a secular reception room.
The benefits of mobile fences
Mobile fences do not require the high-class and narrow profile specialists for the assembly and disassembly. These facts significantly reduce the cost of the construction site arrangement, or any other object, which territory needs a fence.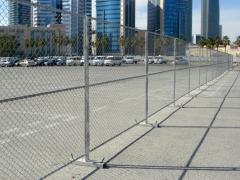 The first thing to point out is the enclosure installation speed. In some cases, exactly the speed of installation plays a crucial role in the event organization. Other advantages include the following factors:
durability;
resistance to serious mechanical loads;
sustainability;
compactness and usability;
excellent transportability.
The ability to control the processes occurring beyond or within the fenced area due to the fact that an enclosure does not limit the visibility.
An important advantage is the resistance to critical climate regime, aggressive external influences, corrosion.
The mobile fences production
For the fencing production pipes are used, which provide the high strength and stiffness of the whole structure and minimal trauma.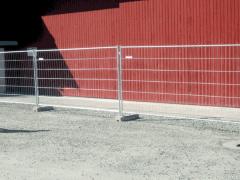 Buyers are usually offered with protections made of structural and stainless steel.
The first option is really prevalent because of the affordable price. To improve its durability the metal is galvanized, colored for using for a long time in open air (if necessary, this metal structure can be re-painted).
Stainless steel fencing constructions are much more expensive, so they are usually used in offices, business centers and other premises, where there are strict interior design requirements.
To improve the aesthetic appeal of enclosures they may contain different decorative elements and perfectly fit any interior.
Related Information:
How to build a privacy fence tips masters.