For a long time a brick fence is considered the elite fencing type. It is very popular because of great qualities such as strength, durability and decorative effect. However, because of the high cost and installation complexity, not everyone can afford a brick enclosure. For this reason, it is rarely built like the unibody structure. Usually it is the combined construction. In this article we will talk about how to build a brick fence in the simple way.

Brick fence advantages
A brick wall has high strength, durability, fire resistance. It is resistant to various climatic phenomena influence, and is highly resistant to damage.
Also it well protects from the wind. Usually this type of fence is made in one brick width. But if you plan to make a high fence, it is better to build it in one and a half brick.
Nowadays, there is a huge variety of materials for creation beautiful fencing. Various composite structures, which cladding is made of natural stone are extremely popular today. Also, an enclosure made of this material may have different forged inserts, combination of corrugated roofing sheets, glass blocks.
How to build a brick fence: main stages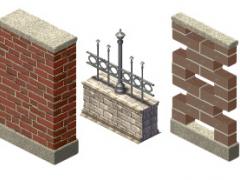 Layout making
Before you begin to build your hedge, you should make a layout. It is performed in order to know the future enclosure boundaries, set a place for gates and wickets. Generally, the gate width is 13 ft, but note that the narrower roadway is, the bigger should be your gate width, that a car could enter the yard without interference.
Installation work
Once you have defined future hedge boundaries, you can start building this construction. Let's look at the whole process step by step.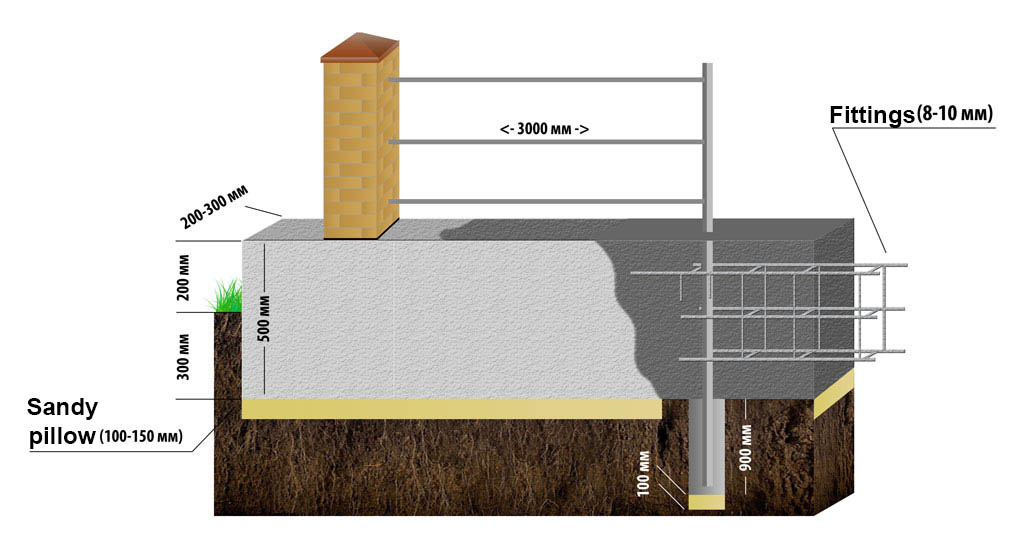 Foundation
Like any other a brick fence requires a good foundation. For its creation you need to dig a rectangular trench around the future enclosure perimeter. This trench should have a depth of 8-12 inches. It should be deeper in the region, where construction works are carring out. The foundation may have a different width: it all depends on the width of a hedge itself.
The next important step is the drilling wells process with a special garden instrument under the supporting pillars. Typically, the distance between support pillars is 6-10 ft. We recommend you to make these pillars of channel bars or pipes. After these pillars installation in the empty space of wells, fill them with a mixture of sand and gravel. Note that the supporting pillars, which will hold the gates should be properly reinforced.
After this stage you need to assemble the formwork. In order not to regret in the future what you have done, do not neglect the reinforcements. Thanks to reinforcement your hedge will be much stronger and more reliable, it will own the increased term of its suitability. After all the preparations, prepare some concrete and pour it into the formwork. Once again try to align the supporting pillars and give them some time to dry, although it should be 24 hours.

Waterproofing
A layer of waterproofing protects your enclosure wall from getting wet. It is especially true if groundwater is located not very deep. Waterproofing layers are placed between a brickwork and foundation. There are a lot of materials that are used as waterproofing way. But, nevertheless, for this material wall it is better to use a conventional prepared roofing paper.
Walling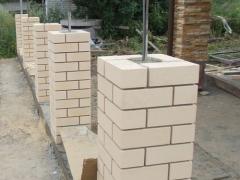 Before main works will be started, you need to calculate the amount of required material. Bricks come in a huge variety of colors, sizes, and they have different purposes.
How to build a brick wall fence in a beautiful way? To get a beautiful hedge of this material type, you need to take care of an interesting design choice and a clear pattern. Such actions will not only strengthen your enclosure at the seams, but also improve its aesthetic appearance. Fancy-works should be done while brickworks are performing until cement is not frozen. Also there are many ways to refine the foundation form: coloring, stone cladding, tiles, granite, decorative plaster.
As you can see, the brick fence installation can have a wide variety of ideas. It all depends on your preference.
Recommend:
Fence up the area. How to build a picket fence yourself.