In this article we discuss how to solve such a usual problem as building a fence on a slope with your own hands.
Installation of such structures as fences is not something complicated in general, especially when it comes to grids or metal profiles. However, landscapes of some buildings and sites are sometimes very diverse and quite often you can find such a thing as a fence descending gently down the slope. You may ask yourself: "How to build a fence on a slope?"
Building a fence on a slope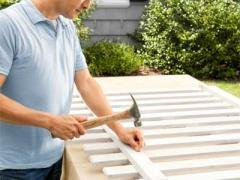 It really will not make you much trouble. Even in case that all works have to be carried out exclusively with your own hands, without professional help. It should be noted that the fence built on such kind of terrain will not only protect your home and your garden from unwanted prying eyes, but also will strengthen the slope itself by not allowing it to become peaky in future. However, to make it come true you must follow some rules.
How to strengthen a slope
Many of you, for sure, will have quite a natural question: "How on Earth can a fence strengthen a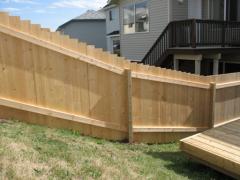 slope?" But everything is very simple indeed. All fences have a solid foundation which not only gives stability and reliability to a fence, but also strengthens the slope at the site of installation of a fence. In addition, different fences contribute to the intensive growth of shrubs and other plants which hamper soil with their roots in a brilliant way. The best materials for the construction of a fence on a slope are:
timber,
mesh netting,
concrete.
Different vines feel comfortable enough on fences like these. Their roots will be the extra support for a fence.
Before installation
For a slope to be strengthened securely it is necessary to build a fence of high quality. Let us discuss how to do it properly. The first step is to sustain the size parameters of a fence. Its height should not be less than 3 feet, and the thickness of the substrate must be equal to 1/3 of its height.
A very important part of such design is the drainage system. Since the fence is being built at an incline it is necessary to provide a full melt runoff and rainwater. The main elements of such system are holes, along with surface or underground drainage. Next to these holes professional builders usually recommend to leave some seams on the surface of the fence empty. As for the land drainage, it is the mound of rubble or gravel (surface drainage) or a well with a special pipe (underground drainage).
Installation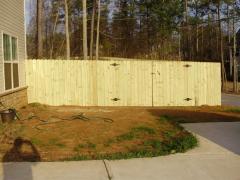 Installing a fence on a slope is a bit difficult, but it is still can be done with your own hands in a very short period of time. The first step is to build a foundation. To do this, put up supports along the entire length of your future fence. Then a trench is dug between supports. Due to the fact that you are going to mount guard overcoming a slope, you should not build a stepped base, not a usual one. That is why filling the respective trenches is carried out level by level. Across the trench you should set boards that will determine the border level. It is better to start pouring the foundation from top downward. After finishing work on the first section, a formwork is fixed to the level below and all the actions then should be repeated.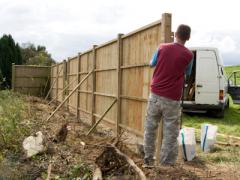 Even during the installation of the pillars it is necessary to designate the place where a gate will be located. If corrugated board is used in the construction of a fence, the holes in the metal posts can be closed with special caps. It is often useful for mesh netting, timber, concrete too (with posts made of metal). Then cross-beams are mounted, they should be fixed at a proper angle (as we deal with a slope). A mounting method depends on the type of material – screws, nails or welding. If a body of a fence is concrete, then the transverse logs are not needed. After the logs had taken their seats, the main part of the fence is installed. Profiled is sewn to the frame with screws, wood planks are sewn with nails. Sections of concrete or grid between the columns and secured by appropriate means.
Slope is a dangerous thing, because in several years it can become peaky, which can lead to the destruction of buildings built on it. However, this can be prevented by erecting a fence on a slope which will indeed serve as a real support and protection. We hope that this article helped you to answer the question how to build a fence on a slope.