How to seal windows to avoid water leaks, drafty, cold air and noise in your living space, the main types of sealants for windows.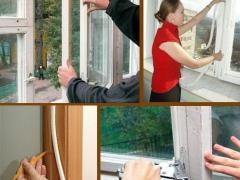 Windows are expensive enough to make us worry about their proper exploitation. Water leaks, drafty, cold air and noise in your living space are the problems that we often think about when dealing with our windows. In order to avoid such problems in the future, you should seal the outer seam from inside, between the window frame and the wall, weather you have classical old windows with a sash or modern glazed ones. So, the reasonable question appears – how to seal windows? You should choose the right material for this process, and then your skills and a bit of patience will be enough to perform the windows sealing with your own hands. Your windows can be sealed for winter or forever.
Sealants for windows
Silicone sealants are the most common material today. Made of silicone rubber, they are classified by substances providing the vulcanization process (acetate or neutral). The use of acetate sealants is limited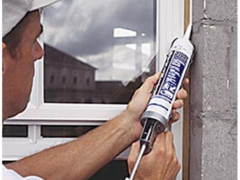 by covered surfaces resistance to corrosion, as when they release the vulcanization acetic acid. That's why you should ventilate your room often in case such sealants are used. However they have a higher strength increasing their performance. It should be also noted that acetate sealant is effective only when it is applied to smooth surfaces such as glass, for example. Neutral silicone sealants are highly adhesion to smooth and porous surfaces, so they are often used in the external sealing of joints while installing windows. In such cases one surface (a window frame) is smooth, and the other is porous (concrete, brick). Neutral sealants have no odor, in the process of vulcanization less toxic substances are emerged. In addition they are easier to operate with and they are characterized by good adhesion to glass, plastic, enamel, ceramic, aluminum, wood, PVC and almost all of the painted surface. They are quite good for vinyl windows. Such sealants are able to maintain their properties in a very wide temperature range.
Types of sealants for windows
There are 3 main types of sealants:
acrylic sealants,
thiokol sealants
polyurethane sealants.
Acrylic Sealants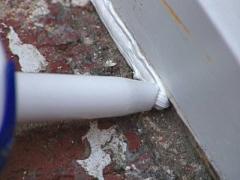 Typically they are used as putty for windows. These sealants are characterized by very low vapor permeability, so they are used to protect the polyurethane foam from the extra moisture. Acrylic sealants are cold-resistant and do not cause corrosion of metals. Such sealant are usually perfectly connected with most of materials. It is important that they need not be primed even on wet surfaces. This material is well stretched. This is quite important while terminating various cracks in masonry or wood, as well as while sealing gaps between the parts of the window openings and window boxes. This sealant doesn't fit for tar, bitumen and sealing surfaces which are constantly exposed to water.
Thiokol sealants
Such sealants are highly resistant to light, heat aging and different liquids. They are very flexible, they retain their properties over a fairly wide range of temperatures, they are very durable. This opens up enormous opportunities for their application. It should be noted that in order to increase the adhesion to the porous material this type of sealant has to be used with primers.
Polyurethane Sealants
They are cheapest sealants, although they have quite good heat resistance. They fit perfectly for cold materials such as masonry and concrete. Polyurethane sealants are fairly resistant to weather and temperature changes, acids, oils. However they are subject to only slight deformation.
How to apply liquid sealant?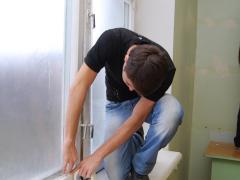 Using a wire brush or sponge you should first clean the exterior surface of the frame and the inner surface of the window opening. All dirt and sagging solution have to be removed carefully to avoid chemical reactions and troubles in sealing work. If the outside temperature is below zero, it is necessary to remove any ice, snow or frost. Materials for the windows sealing should be stored in closed, dry, warm and ventilated rooms. Sealant is applied to the surface of the panel joint with a syringe, spatula or other usual device. Applying sealant to glazed windows joints should be very even, without any gaps, voids and sagging. The thickness of the layer should be of about 2 mm. After laying the sealant should be leveled. The surface is shaped with a wood or steel jointing dipped in soapy water. For the sealant edges to be smooth and good-looking, you should previously paste adhesive tape on the joint. After laying of sealant the adhesive tape is removed.
We hope this article helped you in case you were looking an answer to the question how to seal a window in your house.