Common guidelines on how to clean aluminium window frames. Detergents and supplies; basic rules for cleaning powder coated aluminum frames.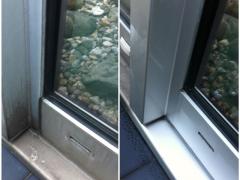 Aluminum window frames are used for glazing of rooms, balconies and loggias. This material has a lot of positive aspects: it is lightweight, reliable and durable. Being properly operated, aluminum frames have presentable appearance for a long time. It is essential to know how to clean aluminium window frames so that the windows are kept in order, last long and look new.
First of all, check whether you have got all the necessary cleaning supplies: sprays, gels, liquids for glass cleaning. It won't be amiss to buy cloths and napkins which are designed for washing the windows. These wipes are lint free, absorb dirt and do not scratch the glass. We also recommend you buying a special mop, which is called "squeegee". These modern tools will facilitate the cleaning process. Choose what you like, but never treat aluminum window frames and glass with compounds containing abrasive particles.
But do not despair if you do not have these detergents and supplies. Aluminum windows are easily cleaned even with more traditional means: soapy water, sponges and ordinary rags.
Cleaning of oxidized aluminum window frames
For external cleaning you can use the same cleaners as for treatment of interior fame parts.
First, wipe the window frame with a dry cloth to get rid of dust.
Then, the openings at the bottom of the frame are cleared from dirt.
Wash the frame: powder coated aluminum window frames are easy to clean, and you can use any means in combination with a soft cloth. If you have not cleaned long, use a sponge.
Now handle glass. Take a window cleaner, spray and wipe it with a microfiber cloth. If you are using other means, then, read the label and follow the instructions.
In the absence of special detergents, take two small buckets of water. The first one is to contain clean water. Add the washing powder or any other cleaning agent to the second one. Wash the glass with soapy water, then rinse it with clean water and wipe in a circular motion.
If you use a squeegee, do vertical movements from top to bottom.
Remove excess water with a dry cloth – this will help you polish the aluminum surface.
Whatever means you choose to clean the windows, they should be wiped dry. Do not leave the windows and frames dry themselves: the streaks are likely to remain.
Modern quality double-glazed windows are completely tight, so you don't have to clean them from the inside. Specific contaminations (grease, paint) are removed by special detergents suitable for aluminum window frames. Having equipped yourself with modern detergents, washing supplies and useful tips on how to clean aluminium window frames, you will maintain them easily.
Treatment and maintenance of anodized aluminum window frames
Anodized aluminum frames are likely to get covered with ugly white stains of salt if located nearby the ocean. New anodized aluminum coating can be damaged by staining by stucco, mortar or harsh chemicals.

In case the anodized aluminum coating just got faded, wash the frame with ordinary soapy water using a soft cloth. After that, wipe the frame with a dry cloth.

If anodized aluminum coating got hardly stained or pitted or is disturbed by heavy oxidation, you may have to use a non scratch cleanser (you can get it in any grocery or hardware store). Then thoroughly rinse the window and let it dry.

Wipe the frame with denatured alcohol or a cleaning solvent e.g. xylene. Don't forget about personal protection. Finally, apply special protective coating. Wipe it on using a lint free cloth.

Minor scratches can be removed by applying a thin layer of aluminum resin, a special corrector, which is produced by the manufacturers of windows. To save aluminum window frames from damage, use special silicone-based means for the regular conservation.
Grease. Hinges, moving mechanisms are lubricated with mineral oil annually. Substances containing resin and acids are not suitable.

How to clean aluminium window frames so that they are operated for decades? You need to take care of them: wash and clean as needed (without use of brushes and abrasives that leave scratches on the pane and aluminum profiles), remove the dirt from the metal fittings and seals with the help of a vacuum cleaner, clean the drainage channels.

Particular attention should be paid to sliding systems and anodized aluminum windows exposed to the sun. If you do not monitor the cleanliness of windows and sliding systems, then the small grains of sand, dust and dirt will accumulate in the sashes of sliding mechanisms over time, and the window system gets cranky.

How to paint aluminum window frames?