Types and common ways or roof insulation according to roof structure. Peculiarities of working with different insulation materials.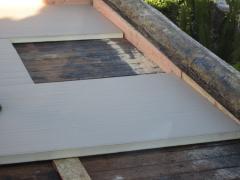 Construction of an energy efficient house implies, in particular, its roof insulation. It is known that about 35% of the heat may escape through the roof. The best way to insulate roof of complex configuration is the use of multi-layered "cake", which consists of mineral wool, polyethylene foam and waterproof coating. Modern technologies allow avoiding significant weighting of the roof. There are enough light insulating products which provide reliable protection against heat loss. And if you like to insulate a country house or cottage well, it will be possible to live there not only in summer but also in winter.
The process of insulation depends on the roof type. If it is a loft, pitched roof, or simply the attic you are going to use often, for example, to store something, then it is better to insulate the eaves themselves, i.e. the roof slopes between the rafters. And if it is a flat roof or inhabitable attic, which you are going to use rarely, it is much more efficient, cheaper and faster to insulate the ceiling from the outside, by processing the attic floor.
Insulation types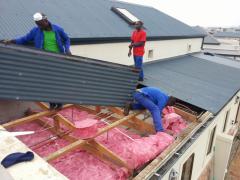 A plenty of insulation materials are available today to developers and home owners, including polyurethane foam, wood fiber, extruded polystyrene (Styrofoam), gypsum board, rigid mineral wool or cellular glass.
Selecting a type of roof insulation can't be isolated as the choice is to be made in accordance with the type of membrane and application method. Note that selecting an insulation material comprises:
Membrane compatibility.
Specific R-value code.
Code requirements in regard to wind and fire.
Compressive durability for traffic and hail.
Take into account compatibility of the insulator with roof covering. For example, extruded polystyrenes shouldn't be in straight contact with thermoplastic PVC membranes. Modified bitumen membranes, i.q. conventional membranes, are not recommended to apply over foam plastic boards.
What should be the thickness of insulation material?
We recommend that you opt for a thickness of the material that is a third less than the thickness of the rafters. If the insulating material is too thin, it is recommended to lay at least in two layers. In this case lay the material so that the joints in the first coat are overlapped by the second coat of insulation.
It is important to neatly stack the insulating material, fastening it with non-metal fixings. Do not neglect the arrangement of steam- and waterproofing. Otherwise, you won't be able to avoid bad smell in the roof space later on.
Mounting options for pitched roof insulation
Consider the first version of insulation between the eaves. The best roof insulation, albeit the most expensive is spraying polyurethane foam. Polyurethane foam can cover the entire inner surface of the roof very densely and seamlessly. And it is very important that there are no gaps. After all, any gap in isolation is a cold bridge with lots of temperature extremes, where moisture from the air can condense and turn into dew, which is unacceptable. If the attic is under direct sunlight, the polyurethane foam can be protected by a decorative trim, because the only thing that causes its abrupt destruction is ultraviolet radiation. And so, it fears neither cold nor heat, nor moisture. Its pores are closed.
When carrying out metal roof insulation, most suitable option is using polyurethane foam. This polymer applied by spraying will help you get rid of the leaks in hard metal roofs. It fills trouble spots and seals the joints, forming a uniform and seamless layer of insulation. Experts recommend applying the polyurethane foam on the inner junction between two roof eaves. This will help ensure a better quality of insulation and waterproofing.
Performing metal roof insulation, polyurethane foam can be applied not only inside, but also outside, right on the roof surface, protecting it from the effects of rainfall and providing complete sealing. If you put a layer of insulation on the outside, it is necessary to organize a high-quality and long-lasting protective coating for polyurethane foam insulation. It will prevent the foam layer from contact with the sun rays and increase the time of its operation.
How to install mineral wool insulation
If polyurethane foam insulation does not suit you, it is better to insulate the roof slopes with rigid mineral wool, along with applying additional protection for it. Mounting mineral wool insulation begins with attaching the boards between roof rafters. A better option is mineral wool in the form of rolls pasted on both sides with foil. It does not compromise on thickness, as insufficiently insulated roof space would reduce the effectiveness of insulation.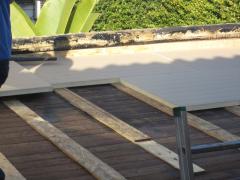 The design of the roof is very susceptible to external influences (temperature changes, precipitation), so when using insulation made of mineral wool, it is a common practice to provide additional layers of steam- and waterproofing. If this is not done, the mineral insulation, which is not protected with foil on both sides, noticeably loses its characteristics under the influence of moisture. In order to protect the mineral wool, waterproofing membrane in a form of nonwoven synthetic material is often used. It does not pass moisture and air through, and is also capable to partially reduce heat loss.
Due to the temperature changes moisture can condense in the mineral wool. To prevent this phenomenon, use polyethylene foam. The process of installation is quite simple, as polyethylene foam is easy to cut and tightly fits any complex shape surface. Thermal insulation properties of this material are provided through closed pores filled with air. Foam also serves as a sound insulation. When laying the material you should leave a gap of 20 mm between it and the surface to provide ventilation for free removal of water vapor.
Flat roof insulation
If the roof is flat or there is a non-residential attic, an easier and more convenient option is to insulate inner flat surface under the roof in the same manner. But it is very important that the insulation material is laid on the top of clay or concrete screed, which has a thickness of at least 4 inches, but not directly onto boards or even worse – onto plasterboard ceiling.
Dense, well-made screed does not have any cracks and air leaks, thus, cold bridges and their consequences: humidity condensing, soaking, fungus resulting in ceiling and walls' blackening are impossible to occur.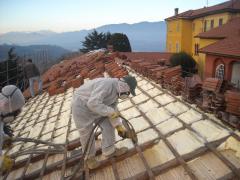 Insulation with mineral wool. Another way is to roll out non-combustible foil insulation such as basalt, and tightly affix it to the joists with the construction stapler. Of course, you should observe all precautions for the protection of breathing, as volatile mineral wool dust is harmful to health. And for the same reason, it is better if it is protected on both sides with foil.
Insulation with Styrofoam. If you're going to apply Styrofoam simply by putting it on the attic floor, you should consider some important technological nuances.
Cutting Styrofoam can take a lot of time. Secondly, it must be tightly pressed and fixed to the surface, along with sealing completely all the cracks with foam. Therefore, the best use of foam is only with the concrete floor screed.
It must be remembered that only a professional performance of the roof insulation will create favorable conditions inside your home in any weather.