Advantages and operation principle of cavity wall insulation. Suitable insulation materials. Application technology of cavity wall insulation.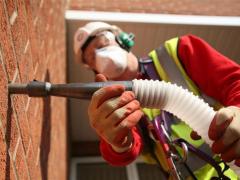 Cavity wall insulation serves for reduction of heat loss through the wall by filling the inner space of a cavity wall with material which impedes heat transfer. This inhibits air movement within the wall cavity (air still remains the actual insulator). Use of insulation in cavity wall benefits you minimize costs of heating the premises.
A cavity wall is an exterior wall of the building which has been constructed from the two leaves: the inner and outer one with a gap of about 50 mm between them. The outer wall typically represents brickwork or rendered blockwork. The inner wall usually consists of concrete blocks or breeze blocks and it is finished with plaster from inside.
Cavity wall insulation is supposed to prevent convection. Properly installed insulating material ensures less heat losses through walls and keeps a house warm, thus, this is a cost-efficient approach to heating your house.
The US government, local public utilities and certain energy companies offer help with expenses for cavity wall insulation. Low-income households are offered grants for installation of energy efficient upgrading. These programs help make your dwelling warm and comfortable and cut your monthly utility bills.
Under the program, you are provided with an inspection which can give you essential information on energy efficiency improvements needed to be carried out in your house, advise you on insulation projects available in your state and qualify your housing for a grant. You can also get a soft loan from local government agency in case you want to install the insulation through PACE financing program.
What is cavity wall insulation?
Most houses erected about 10 years ago and earlier have two ply walls, so there is a small space left inside (a "cavity") between these two layers. Buildings constructed within the past 10 years are likely to have already been equipped with insulation.
The function of the cavity lies in prevention of rain water from permeation via the outer wall inside the premises. But, you should take into account that empty cavities also let heat out of your home and they cause about 35% of all heat loss.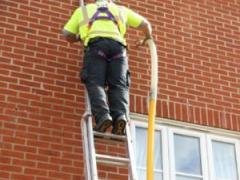 The cavity width should be at least 2 inches. The walls themselves must be in good condition so that they are fitting for cavity wall insulation. New buildings being constructed nowadays are insulated with rockwool slabs or glass fiber wool, which are placed between the sides of the cavity wall. But there are a lot of other insulation materials that offer multiple advantages and are widely used as well.
For already constructed buildings that weren't equipped with insulation of cavities, fibrous materials such as glass wool or cellulose insulation are sprayed into the hollow through accurately drilled holes till the material fills the whole space inside the wall. Foam is also suitable for cavity wall insulation. Modern efficient type of foam is polyurethane, which is increasingly applied for insulation of residential housings.
How does cavity wall insulation work?
Wall insulation works as a blanket which prevents heat from coming out through the walls. It also helps to stop your home overheating in summer.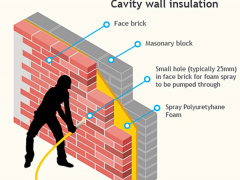 The type of insulation suitable for your house depends on whether there are solid or cavity walls in your home. Both types of work should be performed by qualified installers.
The outer wall is filled with insulation material, which is sprayed or blown into the inner space between the leaves of brickwork that form the structure of cavity walls.
The costs of the whole work range between $500 and $1100 depending on dimensions of your house. Properly installed insulation will pay pack in roughly four years due to the savings you are going to make on your utility bills.
Damp problems that can be caused by cavity wall insulation
In order to prevent damp problems in your housing, you should check if it is at risk. Look through the list below to estimate damp risk of your home. You can ask your installer whether he is aware of a potential problem.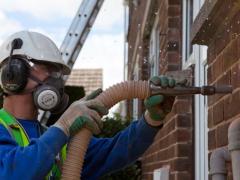 Dampness is likely to occur in your premises after mounting of cavity wall insulation when a combination of the following factors takes place:
your dwelling is exposed to harsh wind-driven rain;
the house is situated in a stretch of open country and it is not sheltered by surrounding buildings or trees;
exterior walls of tour house are poorly designed and maintained and there are cracks and crevices in masonry or facing.
Due to these reasons the house with cavity walls which are fully filled with insulation material is at high risk of water penetration. In this case the insulation material acts as a bridge for water, which is easily transferred between the outer and internal walls (interior wall insulation). Therefore, moisture penetrates inside the house.
Installation of cavity wall insulation
So, if the structure of your exterior walls and climate of the area are suitable, it is compulsory to insulate cavity walls. You'll need to approach a registered installer for help in fitting cavity wall insulation – it's not a work you can carry out by yourself.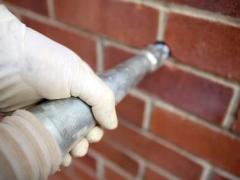 Insulating material is put into cavity walls. Among commonly used materials there are mineral wool, foam or polystyrene beads. Filling cavity walls allows trapping heat and can help reduce heat loss.
A professional installer will check whether you house is suitable for application of cavity wall insulation and give recommendations on the best type. First, several holes are drilled in a wall which is being insulated. The insulation material is blown through these holes into the wall cavity from the outer side of the house. In the end the holes are filled in with plaster or other material compatible with your masonry.
Processing cavity walls will take you about two hours, but it depends on the dimensions of your house and other specifications of the building, e.g. ease of access.