The step-by-step instruction on how paint a front door with your own hands properly.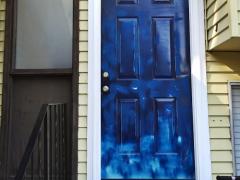 A situation may appear when you have to wonder how to paint a front door without removing it. The reasons may be different:
you have a garage with a metal or aluminum door,
you do some repairs,
you have a new metal door in your country house to be installed,
you just want to repaint your door into a different color to give it a fresh look and original design.
How to paint a metal door and make it look nice after painting? How to make the paint keep for many years and how to make the door itself not to rot or corrode? The answer may be the following: the easiest way to paint a front door without removing it is using the spray paint in a can. Nowadays you can easily choose a paint colors you like most among a huge range of paint colors on the market. The most popular colour are red, brown, black, etc. Some can paint may even have special effects: "metallic", "pearl", "fluorescent" and others. You can also choose one presented in the range of special paints for metal, special paints for steel, special paints for wood, etc. In case you don't want to completely repaint your door (especially if it's a front door with glass panels), it may be also easier to "refresh" it without brush marks – with the help of stencils and spray paints.
You will need:
acrylic spray paints (traditionally, one standard door requires 2-3 cans),
acrylic spray lacquer (glossy one or matte one),
sandpaper or metal brush for cleaning the surface of the door (especially needed for a wooden door),
paper or film to cover surfaces that can't be painted (door hinges, door peepholes, etc),
masking tape,
a basin of water,
cotton cloth,
detergent
optional: if you want to remove deep scratches and bumps on your metal door, you will need putty and primer.
How to paint a front door with your own hands
You should begin with the preparation of the door and its surface for painting process. To do this, remove all the removable items of your door: knobs, peepholes, rim locks, etc. If there are door elements that you don't want to paint (glass panels or other materials inserted, lining), you should either remove them or cover them gently using masking tape and a covering film.
Carefully wipe the surface with a damp cloth. If the doors have any fat or stubborn stains, they can be cleaned using White Spirit, acetone or some other special cleaners. If your door had been painted before, it is desirable to completely remove the old paint layer. To do this you can use different special removers for old paint or a good old wire brush and a chisel. If the door is not new and there are places damaged by rust or corrosion, use rust removers or sandpaper to properly clean the damaged surface.
After the door is completely prepared, you should work the surface of the door with sandpaper and wire brushes – this will provide the maximum grip (adhesion) of the surface of the door and paint.
Before the painting itself it is advisable to degrease the surface, it will guarantee that the paint will last not only more than one season, but for many years. Use special degreasing compounds or your usual White Spirit.
If you want to eliminate any irregularities, cracks, chips and other damages, you will need to putty them. To do this the use of a regular car putty will be the best choice. After puttying work with sandpaper once again, and then wipe all the treated surfaces with a damp cloth.
Optional: Don't forget that in case you have a metal door it has to be primed before painting. You can use special primer, but if your door has rusted areas it is recommended to use primer for rust. Well primed metal surfaces give the most stable base for paint. It will provide the long life of your perfect new door.
Then start working on the most important and exciting step of the whole process – painting your door. Acrylic spray paint is the best choice on the market today. It is not pricey and has a number of advantages:
easy work process,
a huge selection of colors and shades, as well as a large number of colors with special effects,
excellent adhesion to properly prepared metal (and other) surfaces,
quality results and long life.
Before painting the door with spray paint shake the bottle thoroughly, because paints like these usually have uniform consistency. 20-30 seconds of shaking will be quite enough. To avoid streaks of paint, paint your door from the top to the bottom causing the paint from a distance of about a feet. Make sure the paint ai covering the surface of the door evenly and that all sections are dyed in an equal way.
As a rule doors are painted in 2-3 coats. Before applying the next coat of paint, let the previous coat dry completely. As you deal with acrylic spray paint, 20-40 minutes will be quite enough (depending on the room or the street or the season). It's not recommended to paint a door if the outside temperatures is below zero or it rains. After the last coat of paint is finished, let it dry completely – wait for 2-3 hours before starting the full exploitation of the door.
If you want to give the painted surface the extra protection and give it greater depth of color and gloss, you can cover the painted door with an aerosol acrylic lacquer. Drying time of it is about 1,5-2 hours.
After the painting process is finished, the door's accessories and decorations can be returned to their usual places.
Attention!
While painting work in well ventilated areas and don't forget about the individual protection.
Don't forget to keep in mind that if the top layer of paint has already dried up, it does not mean that the paint has dried inside. Complete drying of several coats of spray paint requires at least 4 hours.
We hope this article helped you to answer the question how to paint a front door with your own hands.