Different types of tiles are similar in appearance, but in fact they are completely different. How to install clay roof tiles taking into account their features?
A clay roof tile is the most ancient among all roofing materials. Despite its venerable age (several thousand years), it enjoys the same success among owners of private homes and is an indicator of wealth and taste. So, why this type of coverage has managed to survive many civilizations, what features it has, and how to install clay roof tiles?
Features of clay roof tiles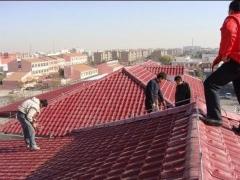 This material type is made of clay by the glazing or engobing method, when raw elements are expose to firing at extremely high temperatures (about 1200 degrees). Thanks to this, a clay tile has a number of completely unique advantages:
resistance to fire, especially compared to more budget competitor – shingles;
resistance to external influences – active solar radiation, chemical elements in the atmosphere and ultraviolet;
you do not need to install any grounding in contrast of its close sister – metal tile, since calcined clay does not accumulate the electric charge;
does not conduct and does not accumulate heat, so your home will be protected from the scorching sun in summer and warmed in winter against snow storms and blizzards;
great noise isolation – the weight of each tile absorbs noise, and eventually even in the attic room you can sleep in peace and quiet place;
environmentally friendly – this is important, because nowadays there are not a lot of natural roofing tiles that are safe for human health;
resistance not only to high temperatures, but also to frost, which is especially important for operation period in winter harsh conditions;
high strength – can withstand the volume weight, which is especially important in winter;
preservation of the original form and color for many years;
Lifetime, which can reach a hundred and more years. You have to spend a lot of money for the purchase and competent installation of such a roof, but you will be able to enjoy it for a long time, and not only you, but your children, grandchildren and they will say thank you! Typically, this material can last without any major interference, as much as a house itself will stand.
As you can see, there are a lot of benefits of such a roof that explains its impressive sufficient urgency and competitiveness till this day.
Advised to read: How to walk on roof tiles
Possible disadvantages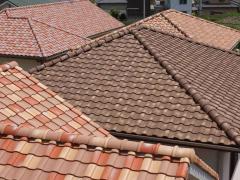 This material has a couple of small drawbacks:
too heavy weight, so before the installation, be sure to make accurate calculations and, if necessary, reinforce the support structure;
too high cost – this type of roofing is almost the most expensive in the construction market.
In fact, such defects can not be called disastrous, and if you have sufficient enough financial resources and can attract professional working team, the installation of clay roof tiles will become a great investment of capital and secure your construction over your head for several generations.
Laying features and scope of use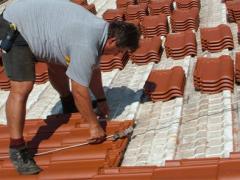 Detailed response to the question of how to install clay roof tiles contains information about the time-consuming and very precise process. That is why it is not recommended to engage in such a process independently. First, you should carry out calculations to determine the weight of a future roof and install the appropriate rafter system, since the weight of a tile is not too small.
Competent calculations influences on your future roof service. You should calculate here the correct installation step in the carcass construction, which then will be installed individually tile by tile. Professionals will be able to do this job faster and more accurately, as they always use special formula calculations.
The installation technology
The technology of how to install clay roof tiles depends on its particular kind. Nowadays there are three types of clay tiles for a roof:
pantile that is laid from the left side to the right;
grooving, which laying is carried out from the eaves and upwards;
flat that is also going from the bottom to up, it is possible to stack a few rows at a time.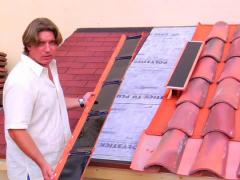 After choosing the clay tile type it is necessary to calculate the amount per square feet of a roof surface, as well as the number of mounts. Of course, it is worth considering a small margin in a case if something goes wrong.
The clay tile laying process should be made by hands, where each sheet is attached to a crate with the help of findings. It is very important to look for the slope angle – the minimum is 11 degrees. The scope more than 60 degrees is recommended to use with additional forms of attachment.
In fact, you should not necessarily delve into all the details of how to install clay roof tiles. After all, in any case, to make the quality work you need special skills.