Even as an adult you can easily realize your own childhood dreams by building a hideaway. It is never in fact too late to find out how to build a treehouse and fulfill your old dream.
Every child always dreams about having a cozy treehouse. And if you are already parents, just imagine how your children will appreciate a wonderful treehouse made by own daddy, where they may hide and observe nature from this height?! How to build a treehouse in the crown of your favorite tree for relaxing with your family.
Which one idea to use?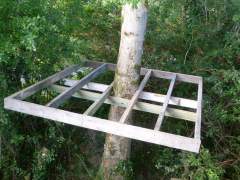 A treehouse for family recreation. If you prefer to create a tree home for the whole family, such a construction can turn into real architectural masterpiece. In a childhood even a box appears as a housing, adults also want to do everything thoroughly, reliably and beautiful for resting the soul and pleasing the eye.
A colorful small tree house for kids. If you prefer to build a tree house for kids and you are not going to use it by yourself, then everything is really easy. There is suitable a tiny structure, the main thing – entertainment devices, bright colors, and, of course, increased enough safety.
A guesthouse or public facility. Meanwhile, modern constructions of such places on the height have reached a high popularity level, so you may easily treat yourself with a tree building even not having children. Today the construction of houses on trees for a variety of needs is actively developing. You can often find restaurants, hotels, tea rooms, and even residential apartments with communications and furnishings on the trees.
However, your tree construction can be just as unbeaten, even not so popular option. The main thing is your fantasy, desire, competent approach and time. Some families create flying saucers or even ships in their garden, while others like huts or build castles. Select your own project and go ahead – toward a dream in the sky!
Which tree is suitable for a construction?
Before you find out how to build a treehouse for kids, you need to determine the place and platform for such a structure, because it is important to make a building not only wonderful, but also a reliable, durable construction. If the wood choice is wrong, you risk wasting your money and time.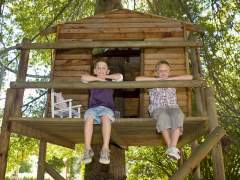 How to do everything correctly? First, check all the trees in your yard. Secondly, choose the best tree for the realization of such an idea. For example, a pine is not the great construction platform of rest recreation areas at a height, because it has prickly branches and annoying "inhabitants" – the ants. In general, the majority of softwood differs with insufficient stability. To give the strength for a lodge you will have to use several trees. A basswood will not work, because of the wood viscosity it will be problematic to fix anything securely on such a tree. A poplar, chestnut, willow have weak roots, therefore, it is dangerous, to build a tree construction, because it may collapse with the tree.
Which one to choose? Experts recommend opting for oak, maple, fir, arborvitae, or that are stable, stately and durable. For a tiny kid home an apple tree will fit perfectly, but for adults it is better not to climb on. Thirdly, to find the right tree is a half of the battle, you also need to correctly approach to the process of selecting the tree and place where it grows.
What requirements should be considered?
The plot has not be gritty.
Do not start the building on too old or even too young trees, which can not withstand the structure weight.
Prefer a branched trunk with horizontally growing branches, and then you will have a lot of support points for making a house without hurting the tree.
The branches for fastening structures should be more than 8 inches in a diameter.
Check the plant trunk and branches for cracked places, sharp narrowing and signs of rot.
Inspect the plant crown and saw weak and withered branches, because they later will still break by the wind that can damage the house constituents.
Basic rules of a tree construction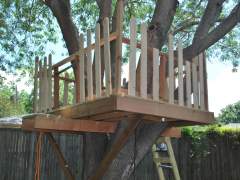 Which rules to follow to keep the plant "health"?
A bark may be cut only on half of the depth, or you will just destroy the tree;
If the trunk is bent, the structure should repeat its bending;
Try to perform major work on the ground to save the tree from excessive loads;
Consider that the tree may still grow and change its own shape.
If this house is intended for kids, make all the structure parts fenced by walls or handrails. For the safety of movement you need reliable stairs for a treehouse. Focus on age – sometimes a rope ladder is not a perfect solution. If you prefer to avoid possible troubles, build wooden stairs. Again, it is better for kids to build gaming constructions at a low height, using natural materials, and instead of nails use bolts and nuts that need to be drowned in the trunk/branches.
How to build a treehouse step by step?
The standard structure height should be 3 meters. Of course, if little kids will use the house, it may be mounted lower. So, how to build a simple treehouse?
Making a platform. Take a board and nail it to a branch, situated at a distance of less than 12 inches from the floor of the future construction. Fix the opposite end to the other branch in a strictly horizontal way. Repeat the operation on the other trunk side around a tree. Make sure that the boards are flush. Neatly remove the rack, measure the distance between places where nails used to be. Then, from 13 feet deduct this number, the resulting number should be divided into two – the size of the segment that you have to measure from ends of boards (2 to 10 inches). Drill holes in these places with a diameter of 0,6 inch. You also have to make such holes on each side, departing from the first segment equal to the distance between holes on branches. Between the holes using the saw cuts should be made, where you have to mount spacers to fix boards at the required distance from the trunk/branches.
Making the floor. Cut the boards. 2 boards (2 by 6 inches) should be equal to the deck length, other 4 boards – on 4 inches shorter. Short boards by screws attach to one of the long ones (perpendicularly). Lift up the construction and tie to the supports. Then fix the second long board. Further, the case will go to the metal plates. To make a construction more stable, you may create supports. It requires a board of 2-4 inches. Supports with screws attach in the overlap way. On the floor frame set the boards, making the gap of 0,4 inch (like a matchbox), because it is necessary to drain water freely, and not to stay in your home. Previously on the boards you should make cutouts for the trunk and branches. Their recommended diameter has to be more than 2 inches, because the tree will continue to grow.
A staircase and railings. It is greater to sheath gaps between the floor and railings with plywood or boards. The roof may be made of tarpaulin. For this making, at a height of 6,5 feet on the right and left of a treehouse, screw 2 hooks. Between them you have to pull a cable. Through cable pull a tarpaulin on the perimeter and corners, and then fix the tissue. Kids prefer the rope stairs. But still consider the age of the house "owners". If the ladder will be installed at the center, it is necessary to make a hatch.
Decoration. Now you may decorate a tree home, equip it with furniture and amusements (swings or slides). Involve to the work all family members, and this boring process will be turned into an exciting adventure.