Here is the most common classifications of floor coverings (types of flooring materials) in accordance to the materials they are made of.
Below we want to provide you the full list of types of flooring materials paying attention to their costs, water resistance properties, installation and exploitation peculiarities.
Types of rolled floor coverings:
1. Linoleum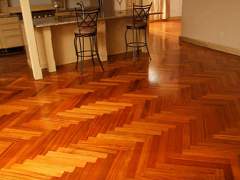 The low price does this coating very popular. Modern technologies allow to create linoleum with very effective patterns copying wood or tiles very well. Some people believe that linoleum looks too cheap in comparison with other floorings, but it is fair for the most inexpensive types only. For linoleum to serve for a very long time, it needs to be stacked on special laying, but the rest installation works are quite simple. It can be used even where a floor is not perfectly flat. Linoleum is waterproof, it is easily washed, it helps you to avoid insects and fungus, because the wear resistance of linoleum is very high. The high quality floor covering of this type can serve you for 20 years and more. It has good resistance to differences of temperatures. The minuses of inexpensive types of linoleum is its smell that does it not a very eco-friendly material.
2. Carpet
The rolled carpet is usually made of natural or artificial fibers. It consists of 3 layers:
latex linings
a basis
a pile
The third layer makes such coverings thicker, softer and more pleasant to walk on them. The carpet provides good sound and thermal insulation, it also has a variety of patterns and designs – hundreds of them. The main lack of carpet – it need to be cleaned regularly by means of the vacuum cleaner. Besides, some types of carpet coverings may burn out under the sun rays.
Types of wooden flooring coverings
1. Parquet boards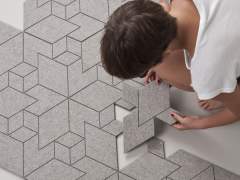 The parquet board consists of three layers:
bottom layer
average layer (wood of coniferous breeds)
top layer (its surface)
It's usually made of valuable breeds of timber – beech, oak, nut, etc. It is rather inexpensive option of a floor covering, though some types decorated by expensive unique timber (for example, mahogany) may cost much. The term of its service life is 20 years and more in case of correct laying. Parquet boards sre stacked on polyethylene substrate with a glue or without it. Both ways demand some special skills. It's a very natural and eco-friendly floor covering with good heat-insulating properties. It is quite simple to look after it, besides while being in use it can be updated a little by means of polishing. The parquet is very difficult in installation, but very durable. It can serve you for decades and decades in theory. For it not to lose a pleasant look, it is required to look after it properly. Parquet iis afraid of water racks, so it must be washed with damp fabric or a brush with a soft bristle.
2. Massive board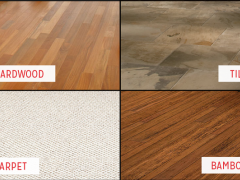 As well as parquet, massive board is absolutely environmentally friendly floor covering which will serve you for 30-40 years or even more. The board possesses quite good thermal and sound insulation, especially if it is stacked on plywood laying. It is simpler to mount massive board, than parquet, however this process nevertheless demands good skills. It is necessary to look after massive board properly, aswell as you do with parquet.
3. Cork floor covering
Unique properties of cork have found wide application in production of floor coverings. It's an environmentally friendly material with exclusively high sound and heat-insulating properties. It is simple to look after the cork covering – it is enough to wipe it with a rag or to vacuum it. Cork possesses spongy structure that provides unsurpassed plasticity – traces from heavy furniture do not remain on such floor covering. Cork flooring is perfect for the people having problems with the musculoskeletal functions – the cork floor covering possesses high depreciation qualities, reducing load of a backbone and joints. Besides it lets you to avoid slippery. And, finally, it is not threatened by insects – bugs are not interested in cork at all. The price of such covering is comparable to the price of a good laminated flooring or medium class parquet. However, the cork floor covering has some disadvantages – it not very moisture resistant and it is rather easy to be crecked, for example, with a very sharp heel.
Other types of synthetic flooring materials
1. Modular floor covering
This covering is almost universal due to: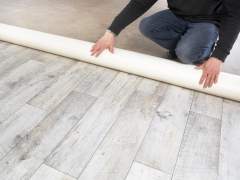 a variety of materials applied while its production
simplicity of installation
possibility of use in rooms with any geometry
Modular coverings are often used in medical centers, for example nurseries, as well as in commercial building, including industrial enterprises.
2. The laminated floor covering
Even the most budgetable brands of a laminate look good. Laminated floor covering authentically imitates timber – sometimes people cannot distinguish it from the real massive board. The laminate is a plate of HDF with a layer of a moisture protective film. Above there is a decorative layer with some pattern. For protection against damages it is recommended to covered it with laminating film – it's a very strong material maintaining big loadings.
3. Bulk floors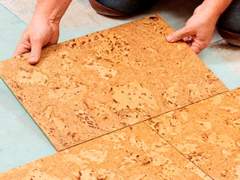 Polymeric flooring known as bulk floors are divided into 4 groups depending on material structure:
epoxy
polyurethane
cement
acrylic
Preparation of basis for bulk floors includes many stages, so it is better tto be performed by professionals. But the laying itself is rather simple.
The materials mentioned above are for indoor using (for outdoors it is preferable to use different types of stone flooring materials).