The description of 2 main types of carpet (natural, man-made) and full information about 5 carpeting subtypes (wool, sisal, polypropylene, nylon, mixed carpeting).
Overall look and performance of the carpeting depend largely on the types of carpet fiber. There are several different options available, including natural, artificial and mixed carpet flooring. Each of them is suited to tailor some specific homeowner's' needs.
Natural Carpet Fibers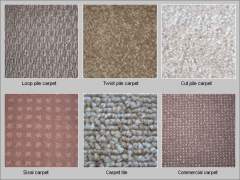 Natural carpet fibers are made of genuine (inartificial) materials. Natural carpeting can be low-piled or long-piled, the first one is much more popular due to its convenience.
Wool
Wool is a biodegradable and environment-friendly material made of the soft fleece, harvested from the animals (usually sheep, alpaca or camelids). Wool is the most expensive carpeting material, however, it offers the greatest value for money.
There are three different types of carpet flooring made of wool:
Twist – made of yarn, twisted together quite tightly.
Plush – weaved of the cut pile.
Berber – carpeting made of the loop pile.
The texture and appearance of the carpet depend on the weaving type, however, each of them is beautiful in its own way.
It is recommended to use wool carpeting in bedrooms and children rooms. Natural-tinted, it looks cozy and elegant at the same time. Wool is very soft and extremely pleasant to the touch. It is also really warm, so you can allow your kids sitting and playing on the floor or walk barefoot.
Although wool is resistant to dirt, you will still have to clean it regularly. In opposite case, the dirt can leave ugly marks on the pile. There are special cleaning solutions you have to use in order to preserve beautiful color and softness of your wool carpeting. The manufacturers usually provide clients with special Cleaning Brochure which contain useful maintenance advice.
Sisal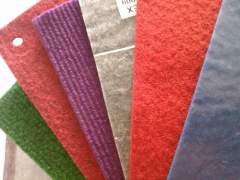 Sisal is not so widespread as wool, but it sisal carpeting is still a nice option for the homeowners who prefer natural carpet flooring. It is made of Agave plant leaves. This material is sustainable; it does not lose its qualities over the years. Sisal has distinctive texture and coloring; it looks uniquely natural.
Sisal possesses anti-static effect, so it does not store the dust. That's why this type of carpeting is recommended for people who suffer from allergies and asthma. Also, it is quite convenient for the homeowners with pets, as sisal carpets are very easy to clear out of dogs' and cats' hair.
Synthetic Carpet Fibers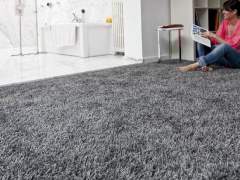 Synthetic carpet fibers are man-made. It is inexpensive and looks nice. Artificial carpeting falls under the category of low pile carpet types.
Nylon (Polyamide)
Nylon is a synthetic material made of polyamide polymers. One of the most significant advantages of nylon carpet is its fastness to rubbing and overall durability. Another benefit is its affordable price.
Nylon floor coating can be used anywhere in the house. It is quite soft and nice underfoot. Polyamide carpets are available in many different colors and patterns. So if you are looking for colorful carpeting or floor covering with ornaments, motifs, and patterns, nylon carpeting is one of the best alternatives for your house. Polyamides require minimum maintenance.
Polypropylene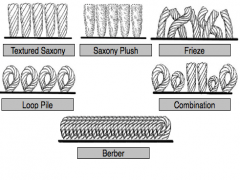 Polypropylene carpeting is made of specific thermoplastic polymers. It is impervious to wear and tear, does not fade in the sun, and is stain resistant.In overall, it is one of the most durable types of carpet flooring. Thanks to its characteristics, Polypropylene carpeting is perfect for hallways, stairs and, of course, kitchens and dining rooms. This type of floor covering is available in various patterns and color schemes Polypropylene is easy to maintain in good condition as long as you use carpet cleaning solutions.
Blended (Mixed) Carpeting
The manufacturers often blend natural and synthetic fibers in different proportions, for example, 50/50, 20/80, etc. it helps to increase performance and make carpeting price more affordable. Wool can be mixed both with Nylon or Polypropylene. Sometimes it is also blended with Sisal, but such mix is not really popular.