The standards dealing with humidity level for hardwood floors during the process of the flooring laying.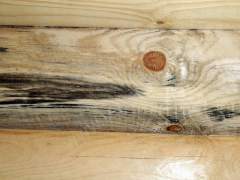 Humidity level for hardwood floors is something that most people ignore, but they are totally wrong and should blame yourself in case of having damages of the flooring in future.
Installation of hardwood flooring is traditionally carried out in the final stages of construction and finishing works. This is due to the fact that the flooring should be carried out under clearly specified temperature and humidity conditions, as well as in the absence of contaminants. Many people ignore this and then have serious moisture related damages of the expensive flooring.
Current standards define requirements for premises in which the work must be carried out. They note that the relative humidity should not exceed 60%.
The temperature rage
The temperature at the floor level – at least + 10 ° C, the remaining space in the 18-25 ° C.
How to avoid moisture tips
The installation of hardwood floors can only be performed on top of the dried coating, which conducted a special training base.
It is unacceptable to have even the slightest signs of moisture: the moisture of concrete slabs must not exceed 4%; the screed humidity should be no more than 6%.
The installation of hardwood floors the final stage of the major repairs ONLY.
This work should be carried out only when you truly realize that you are responsible enough to follow technology – otherwise, call the professionals.
Make sure that heating and ventilation systems, ceilings, glazed balconies and window systems are COMPLETED.
In this case, the proper installation of the flooring will give the customer a great floor covering and the risk of accidental damage will be minimized.
Humidity level of concrete
Traditionally, hardwood flooring is laid on concrete, which should have a uniform structure, be totally smooth, dry, firm and free from cracks. Before the work, test it for strength. To do this, punch a few holes in different parts of the room. The relative humidity of samples should be 6% or less. It is especially important to check the humidity of the substrate in the premises located in the basements and on the ground floors of buildings. If necessary, pre-cover the concrete with waterproofing film.