The parquet is one of the best options for a floor covering. If you want it to serve you for a long time, you need to know how to install parquet flooring correctly.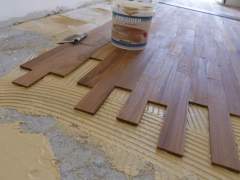 Before beginning the installation, please make sure to comply with the following conditions.
In order to avoid damage, parquet floors are established in the latest turn, after completion of all construction and finishing works connected with the raised dirt and humidity. Before laying of parquet floors, all systems of heating and conditioning have to be in working order, and room temperature has to be maintained at the level of 18-22 °C at least within a week. During the entire time in a working zone, relative humidity of air has to be maintained at 45-55% for the massif and 40-65% for a multi-layered wood flooring. The rough floor or the foundation have to be dry, and the room should be well ventilated.
A guide of how to lay parquet flooring
Installation of massive parquet
It is recommended to install a massive parquet on the wooden basis. As the base, you can use plywood or OSB panels, installed on wooden joists or directly on the concrete floor with fastening with glue and dowels. Most often, massive parquet laying is made on plywood with a thick of 10 mm. For plywood gluing, it is recommended to use dispersive glue or glue based on solvent and synthetic resins, and in addition, to fix plates with dowels. Before bonding, a concrete screed must be primed.
If laying will be carried out on the rough floor, you must first make sure that there are no squeaks and, in addition, to strengthen a floor. The surface of such floor has to be absolutely smooth. If there is a need, the leveling grinding has to be made. Before the massive parquet gluing works, clear the wooden basis carefully by means of a brush or the vacuum cleaner.
Flooring Installation using glue and staples/nails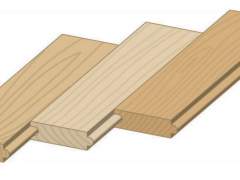 For dense and high-quality laying of a massive parquet, it is recommended to use installation on glue and staples (or nails) by means of the nail gun. Even if the board had some warping, it will be established precisely into place without any cracks. For gluing of massive parquet with the width of about 9 mm, it is recommended to use glue based on solvent and synthetic resins, for the width of about 12 mm, it is advisable to use glue of the high-strength adhesive – polyurethane or based on MS polymers (Wiki).
Laying is carried out from left to right. From each of walls, the broad gap has to be left of about 10-15 mm, which will be subsequently closed by a plinth.
Block parquet flooring
The following options of laying are possible:
laying on a concrete floor with glue. The screed must be pre-primed;
laying on a wooden basis (on floorboards or on plywood) with glue.
Laying of a block parquet is made in chessboard order by connection of blocks in the longitudinal direction with the cross direction of the wood. It is important to ensure that the joints in the corners should not be shifted during a work.
When laying a parquet on the wooden basis, strips can be additionally attached to it by means of fasteners (nails, screws, nail gun). The gap from a wall has to be 10-12 mm. The dispersive glues (containing water) aren't allowed.
After installing:
establish a plinth on a perimeter of all room fix a plinth only to a wall, but not to a massive board);
after the end of the installation, remove dust and dirt with the vacuum cleaner;
limit the movement indoors and wait for 24 hours before the furniture establishing;
always leave several planks in reserve for possible repair of incidentally damaged planks.
Installation of a 2-layer engineering board with the "tongue-and-groove" locking connection and a 3-layer parquet board using a glue
It is carried out on the prepared concrete or any other wooden basis. For gluing, it is recommended to use glue based on solvent and synthetic resins, or stronger – polyurethane based on MS polymers. Pre-screeds must be primed. For a good acoustic and vibration isolation, it is recommended to establish at first a cork substrate with the thickness of 2 mm on the concrete basis using a glue, and then top floorboard with glue.
After installing, use the recommendations described above.
Installation of 3-layer one-strip plank with locking connection in a floating way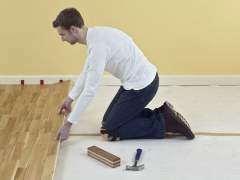 Installation of a 3-layer parquet floorboard with the locking connection is made on the prepared basis. It can be concrete base or other durable and smooth surface. Then the sound and vibration isolation material are laid over the basis. Gluing of such materials to the basis isn't required.
The parquet board is established over a substrate by the locking connection of parquet strips. At the same time the following installation method is carried out:
fit the first row of a parquet board (as a rule, laying begins from a wall, at the same time the broad gap about 10 mm is left, which will be subsequently closed by a plinth);
the second row is laid from left to right, at the same time the first level connects to the laid row by snapping of longitudinal lock connection;
each subsequent level is laid like a previous one.
To understand that you made a lock connection correctly, you need to hear a well distinguishable click. No glue materials at the same time are applied.
The advantages of this way of laying are the simplicity of installation (despite the seeming complexity, this way of laying can be realized even by common people with brief experience of parquet works), and the relative speed of parquet works. The distinctive feature is also the possibility of a dismantling of a parquet floor. A distinctive feature is also the possibility to disassemble the parquet floor. The three-layer parquet floorboard can also be established on glue.
After installing, use the recommendations described above.
The lacquer coating of parquet
Even the thinnest lacquer coat changes a wooden floor:
the texture is distinguished and color of a tree is sated;
it protects the floor from the external influences;
there is an opportunity to wash a parquet;
lacquer creates a wear-proof, eco-friendly, and moisture-proof covering which will reveal to you all the beauty of the wooden floor structure.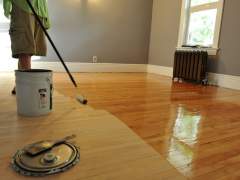 You need a fur roller with synthetic or natural fibers. It is possible to choose any, but the pile size should be 8 mm, it is most suitable for a lacquer on a water basis. It is more practical to use a set of rollers of different sizes for the corners and hard floor areas. In addition, you will also need a good quality brush, which does not leave a hair on the floor.
The lacquer is applied on a floor without haste. Roll it on a parquet with the slow movements using a roller, evenly distributing a layer, but don't press hard. At the formation of bubbles, it is needed to roll in this place once again before the formation of a plain surface. In the hard-to-reach areas, the lacquer is applied on a floor with a brush.
Now it is necessary to wait for a floor to be dry. After that, a process is repeated so many times as it is required.