Cork flooring is luxury and has many advantages, but every coin has two sides – let's talk on cork flooring pros and cons.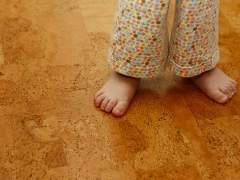 Cork flooring is a great solution for those who appreciate comfort and are fans of all environmentally friendly. Comfort lovers will find heat, which is so nice for bare feet trample of both adults and children. Eco-fighters will calm down making sure that there is no toxic substances in their flooring. But nothing is perfect under the sun. It is time to look at cork flooring in details – let's discuss cork flooring pros and cons.
Benefits of cork flooring
The advantages of cork flooring are numerous. That is why the laying of this flooring is performed in the living spaces and even in the nursery. It's also laid in kitchens, in basements, in bathrooms, in rooms with pets. Let us consider the criteria by which this coating gets more and more fans every year.
Eco-friendliness
To begin with, it is a 100% natural material. These floors are made of the real bark of the cork oak which age is more than 30 years old. Busy moms and pedants will be absolutely happy: this flooring does not absorb dust, so mites and mold will never appear. Cork flooring is the best option for people with allergies.
Easy care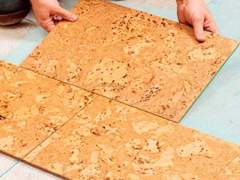 Not everyone finds cleaning amusing. Easy caring for cork flooring is another advantage of it, because you can remove all cleaning products on the furthest shelf of the pantry – all of them will not be needed to clean this flooring. To maintain it clean and fresh, vacuuming will be enough. You also can sometimes wipe the floor with a damp cloth moistened with soapy water.
Reliability
The bark of the cork oak is crushed, and then, under the influence of high temperature, it is pressed. As a result, the material is ready to withstand heavy loads. Some owners are afraid to install cork flooring in living rooms, bedrooms, where they have heavy furniture. They are partly right, because it is not stone, but the soft material. It could easily have been written in the shortcomings, about one unique property of cork – after some time it is warped to its previous form. If you are too afraid to damage your floor, use special pads on the legs of furniture.
Sound insulation
Whether it is floating cork flooring or glued one, the neighbors will not be able to keep abreast of your news. After all, sound insulation properties of cork will make you happy in many more situations: your sleep will not be disturbed even if a cup falls to the floor, etc.
Thermal insulation
The thermal conductivity of cork is also high. At any time you will enjoy a nice walk on the flooring barefoot.
Moisture resistance
Cork perfectly responds to moisture – don't be afraid to spill water. Cork may be laid even in bathrooms destroying the myth that there should be only tiles there. You are unlikely to succeed in the art of slipping (and hurting yourself), too.
Easy installation
Actually, installing cork flooring with your own hands is not difficult. The main thing is to arm all necessary tools. And, of course, a great desire to transform the home. If you've already had the latter, it's time to stock up the following tools:
brackets
a rubber mallet
a setsquare
tape measure
a knife
a jigsaw (or a hacksaw with fine teeth)
a drill
a spatula
a pencil (for marking)
All of this will be quite enough for laying cork flooring. You will be able to perform the laying with your own hands not having special professional skills. If you want to use on the adhesive-based installation technology, it's time to arm the main accessory -respirator. The problems you may face are care and taking your time only. You will not be able even to set the substrate even under the cork flooring if you are in a hurry.
Disadvantages of cork flooring
Cost
People are often repelled by the price criterion while buying something. But if you want environmental friendliness and great comfort, open your purse a little bit wider.
Dents.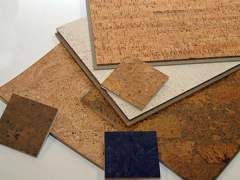 The dents may be formed by furniture and high heels. And if you have too heavy furnishings at home, can buy tips that reduce the load on the flooring, and all the sharp-heeled shoes should have a separate mat.
Roughness
Everyone is different: some people are happy with lack of complexity while installing the cork flooring, while others are happy to have challenges. So as for the texture: not everyone is happy with porous, slightly rough surface. If you suffer from such things, you may just always wear your socks or not to choose this flooring.
Now you are aware of all pros and cons of cork flooring. It's time to make a decision!