Today there is a lot of floor coverings, however, the hardwood, proven for centuries, didn't lose the relevance and still enjoys wide popularity. But, how to install hardwood floors on concrete? Let's find out.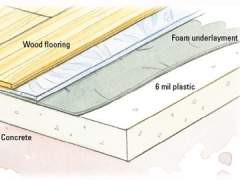 Today there is a lot of floor coverings, however, the hardwood, proven for centuries, didn't lose the relevance and still enjoys wide popularity. But, how to install hardwood floors on concrete? Let's find out.
Humidity determination of a screed
The concrete base should be rather dry – normative humidity is less than 3%.
It is possible to install the hardwood board on a fresh screed not earlier than in three months.
For assessment of a level of concrete humidity, there are special portable instruments. However, a way to check a screed status, even with some error, can be a very simple. The polyethylene film (1 х 1 m) or a square from the transparent plastic (30 х 30 cm) are hermetic pasted with an adhesive tape to its surface, and after 24-48 hours it can be checked for availability of condensate on the inner side or dark wet spots on concrete. Insignificant condensate or its absence, as well as spots, allow starting laying down of a floor.
Preparation of a basis
The guarantee of floor durability is a competent and high-quality preparation of the basis before you lay hardwood floors on concrete.
The roughness of a surface can become the reason of a scratch or a flash of hardwood boards. To check the level and slope roughness, use a rail with a length of 2 meters and a construction level, which are put to the concrete surface in several places. The level will indicate the deviation and the clearance of the rail – in low areas.
Small defects, elevations, and depressions are removed very simply at leveling a concrete floor:
low – are aligned with bulk compounds;
high sections – are removed by grinding.
At this stage, it is also necessary to execute holes in concrete for carrying out of communications, for example, sewage or water pipes, cables, etc. The most effective way is diamond-drilling holes in the concrete. If a floor space is large, it is necessary to perform the expansion joints in the freshly poured screed. For these purposes, the cutting of concrete is carried out with diamond wheels. The final stage of preparing is surface coated with primer.
The moisture barrier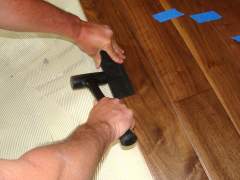 The ready screed is treated with a primer. It performs two functions simultaneously: impregnates and envelops a surface, and creates a moisture barrier. If the cement and sand layer is well dried, then use a single-component priming compound from polyurethane, and for new or under-dried layers – 2-component epoxy that is applied in several layers. Works are continued after drying of primer.
Some give preference to more traditional method of a waterproofing by means of roofing material or polyethylene. Sheets of insulation are installed down on concrete with an overlap the least in 10-20 cm and are spliced together with a construction adhesive tape or mastic. If the rooms are located below a floor and higher moisture content, it is better to lay insulation down in two layers, using bitumen mastic.
It is also recommended to execute the laying hardwood floors on concrete heat insulation and soundproofing. Additional advantages – pleasant to the touch, warm and prevents the spread of extraneous noise.
Technology of installing hardwood floors on concrete
It assumes the laying of boards directly on a screed. Perhaps, it is the simplest and the most widespread technology today. This technique is perfectly suitable for structures of the houses, new buildings or any others, where there is no need for a raising or alignment of the base.
First of all, you need to measure the room and cut the boards of necessary length.
Apply glue on a concrete surface, thickness of a layer has to make no more than 3 mm.
The underlayment is covered with the adhesive, which is used for floor material laying.
The second layer is laid with a polypropylene or polyethylene underlayment at least of 10 mm in thickness. To achieve the required thickness in the case of a thin film, it is spread in several layers, which overlap each other. On the perimeter, you must provide a small underlayment set on the wall.
Further, on the surface covered with glue, the board is installed and pressed over the entire area. The 2-3 rows of a board are laying in such way. When laying the boards, they must be the tight stitch in the longitudinal and transverse directions, and you can use coupling belts or wedges.
After polymerization of glue, other boards are installed. At the same time, boards of the last row need to be cut off in width.
The wooden floor is covered with a varnish, oil, color etc.
Among advantages of such construction, it is necessary to mark:
this technology costs considerably cheaper than any other method;
there is no loss in the location height because the floor is raised only on the thickness of the hardwood floor;
its installing is so simple;
construction of this type – is ideal for laying of "heat-insulated floors".
What to pay attention during the laying hardwood floors on concrete?
It is possible to start installation works only if the screed humidity does not exceed 3 percent.
The base must be different at smoothness and strength, without cracks.
The value of tolerance – 3 mm per 2 sqm;
While leveling a concrete floor, it isn't recommended to apply the aligning compounds because incompatibility with glue isn't excluded them that can shake reliability of construction.
For the better fixation, use a loading on the area of a covering.
The existence of compensation gaps in 1.0–1.5 cm is necessary between floors and doorways, walls, sills, and pillars. Fill them with the cork compensator.
To ensure the sound and heat insulation is necessary to lay an additional layer of insulation – more often it is a technical cork. It is positioned directly under the floor on a polypropylene underlayment coated with adhesive.
To install hardwood floor on the concrete slab is a quite available operation which each housemaster will be able to execute. The only thing, it is necessary to observe technology of installing in a proper way and to perform work very carefully and accurately. In that case, a floor will be strong, steady and durable.