Taking into account that moisture and mold are accumulating in the basement, this part of the building is very different from other premises. It's about what is the best flooring for basement.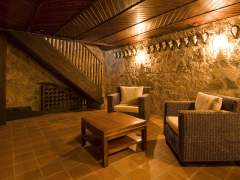 Selecting the correct type of flooring largely depends on the state of the cellar, the quality of materials and their stability in a humid environment.
How to equip the floor in the basement
Before proceeding to the flooring in the basement of the house, you need to make sure that all surfaces are clean and completely dry. There are many material options for basements, but there are some that should be avoided.
First of all, you need to start with the measurement of the floor level of humidity in the basement. It is recommended to lay small pieces of plastic film in two or three places of concrete floor and firmly press edges (better to stick a tape), leave for a day, then check to see if moisture has accumulated under the film.
Since the excess moisture in the basement is very harmful and can seriously affect the materials covering the floors, it is important to take the necessary waterproofing measures, getting professional advice.
In addition, it is necessary to check also basement walls for water infiltration. While the "sweating" of vertical surfaces is not a serious problem, any other source of moisture accumulation must be treated with the utmost seriousness.
However, even if you have a wet basement, there is no reason to worry. There are options available for flooring.
What kind of materials should be avoided?
Firstly, it is wood (parquet, floor board, chipboard, etc.). Because of direct contact with concrete surfaces and humidity, they begin to deteriorate over time and grow moldy. If you still want to use this material, there should be pre-primed concrete surface and used a multi-layer extruded materials (laminate).
Carpets, rugs and other materials on the basis of tissue are also unacceptable for basements. Humidity and probable flood can easily destroy the coating, causing a dent in your budget.
What to prefer for the basement floor?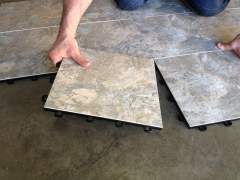 The best flooring for a basement are:
Painting;
Linoleum;
Ceramic tiles;
Cork;
Rubber flooring.
Painting the floor
If your basement has high humidity, there is water and no chance to rectify the situation, the best way is to paint the concrete surface. This method will present the artistic and creative solutions for your basement. Use a large variety of shades of contemporary colors and get not only very beautiful, but also well protected surface from any danger.
Linoleum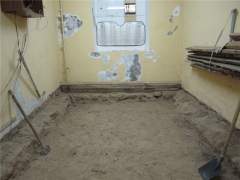 Linoleum can be a good choice. It is convenient and cheap material for flooring. It resolves any design solutions, and is available in rolls or sheets, easy to pack and resistant to water.
Do not lay linoleum over concrete floor. Otherwise, the floor will be cold enough. It is necessary to make waterproofing: you need to take the plastic wrap and lay on the concrete floor. You also need to worry about soundproofing, for this take polyethylene and put it on top of the waterproofing material. It is important to lay them end to end.
Also, linoleum is not laid on the uneven concrete floor. It needs to be leveled before the laying process. If irregularities are small and located in different places of the room, it is possible to correct them with the help of putty or cement.
Ceramic tiles
Ceramic tiles will give your basements elegant look. It is more expensive than linoleum, but they are very diverse in colors and forms. When it comes to resistance to moisture, tiles are not inferior to linoleum.
For the accomplishment of the basement flooring, it is preferable to use thick acid-resistant tiles, while their laying has small features. The reverse side of the tiles is made usually with ribs, which help solution better to attach to the surface.
The surface on which is laid tiles should be smooth and clean. Before laying the tiles should be soaked in water for a few minutes that a solution could better cling. The tiles laying should be started from the far corner of the entrance of the premises. If you need a custom size tile, it can be cut with the help of an electric saw with a special cutting circle.
Cork
Being soft, porous, waterproof and durable, cork provides enhanced comfort. It does not rot, and if it gets water, it can be easily removed with a sponge without causing major damage.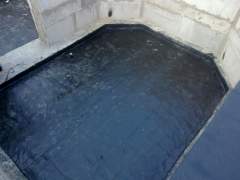 As it is known, cork is characterized by such qualities as resistance to rotting, moisture resistance, not moldy, it does not develop the pathogenic microflora, it is not eaten by rats and mice. On this basis, this type of flooring can be safely put in basements.
Unique cork texture enhances the beauty of natural materials. On the one hand it allows the use of cork functional benefits; on the other hand, it is visually fine wood. Finished floors look like parquet, but so soft and elastic, like there is a thick layer of rubber under it. It has a good sound insulation. And if you put a cork not only on the floor, but also on the walls, this cold room will not only become beautiful, but also much warmer.
Rubber flooring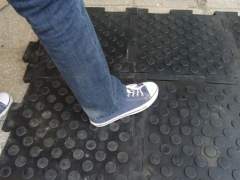 Rubber flooring is used for the flooring of production premises in order to protect concrete surfaces or to prevent floor damage. It can also serve as a damper material or material which prevents slipping on sloping places.
The material is abrasion resistant, not exposed to weathering, which implies a long service life without the need for a changing the floor covering. Rubber flooring material is supplied as rolls and plates, and has a different thickness. Roller rubber coating is specially designed for comfort and practicality stagnation floor due to the coating on the roll width. Rubber cover is a durable material and does not require replacement for years.
When it comes to materials suitable for basements, choose materials that can be dried, repaired or replaced easily. Choose the best!