The modern market of finishing materials provides tons of options nowadays – let's consider the best paints for wood floors.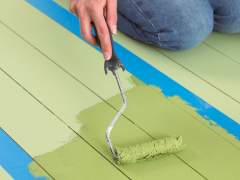 Wood requires continuous treatment to maintain its good appearance. The most preferred method of treatment – which is available for independent use at home – is painting. In order to preserve the longevity of timber, it is necessary to carry out painting of the flooring once every four years. So, let's talk on the best paints for wood floors.
The preparation stage
Before you choose which paint to paint a wooden floor, it is necessary to know the basic characteristics of the floor – what kind of wood it is made of, the location (in the bathroom, in the kitchen, outdoors, etc). If it had been once painted, it is necessary to find out with the help of some type of paint it was performed.
Coatings of lacquers come in two basic types: opaque and transparent dispersion enamel. Colorless materials are protective impregnating varnishes. Impregnation is necessary to protect the wood against insects, humidity and qualities for imparting fire.
Before the painting, the wooden floor should be impregnated to extend its service life. Coating of the varnish is needed to preserve the natural appearance of wood. It prolongs the flooring's service life.
Oil-based paints: pros and cons
Oil-based paints for wooden floors are still popular, even though the fact that they need a long time to dry and have not very pleasant smell. Such paints are sold in ready paints colors, but can be mixed together to represent any ideas of the designer. To remove traces of such paint, you will need to use a solvent. Oil-based paint is applied on a 100% dry surface ONLY. Otherwise, there will be bubbles or it will start to peel the paint. So, this is not a perfect option for timber.
Acrylic paints
Acrylic for wood floor has its advantages: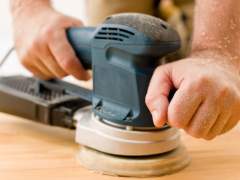 not very high cost;
no odor;
one hour drying term;
an ability to be diluted with water;
if you get your hands dirty with a paint, it is easily washed off with plain water.
IMPORTANT! Before the paint is applied to the floor, it must be carefully prepared. Clean the entire surface with the mud, protruding parts of old paint, and carefully sand it. Then treat it with varnish.
Enamel paints and solvent-based paints
Among them are: latex, acrylic and water-dispersed paints. Water-dispersed paints are the best choice among them. They are very easy to apply, have excellent barrier properties, and the service life of the coating is up to 10 years.
What is considered the best floor paint for wood?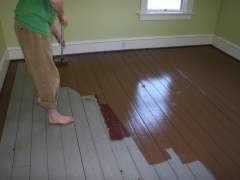 Water-dispersed transparent floor paints for timber are considered the best option. They have protective glazes and impregnation, they contain a variety of substances that are ultraviolet filter. Wood is protected against aging and destruction with their help. Water-dispersed paints for wooden floor are very popular at the moment. Surface treatment performed with their help provides water resistance and color safe mode. The solvent is water. After the applying, the water evaporates and the film is formed. The paint has the "frost-like" properties at the surface. But you can not use this paint with the actual freezing, otherwise it just exfoliate and will lose all its properties. Water-dispersion paints are perfectly tintable – they create superb views of shades. Apply them with a brush or roller. You can also use the spray method for painting. The service life of water-dispersed paints is 4 to 10 years.