The floor covering is one of the most important components of any room. Let's find out what is better: bamboo flooring vs. laminate.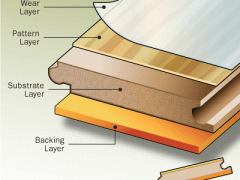 The floor covering is one of the most important components of any room. It is necessary to select it with responsibility and accuracy. Let's find out what is better: bamboo flooring vs. laminate.
Bamboo floor is rather a new participant in the market for floor coverings. The laminate was always the popular choice, thanks to the classically elegant type. A bamboo floor offers an alternative to a laminate covering which will become the ideal choice for your lifestyle. These small comparative characteristics will help you to understand the similarities and differences between bamboo and laminate floors, to learn advantages and disadvantages of each one.
Influence on ecology
One of the most advertised benefits of a bamboo covering – it is environmentally friendly. The bamboo is capable of growing in one day by a meter in height so the cut-down bamboo is very quickly recovered. Today this plant is grown up in many regions worldwide. Such high growth rate made a bamboo popular material for different "green" products, beginning from tableware and finishing with paintbrushes.
However, if to look on the other hand, on the place of the cut-down trees new grow too. Though in order that the tree grew rather big, more time is required, but when the tree grows, it gives much more material, than a bamboo. This means that cultivation and logging take less energy, fuel and labor costs.
Durability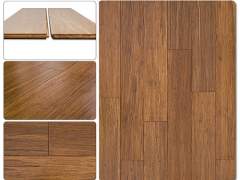 In a case of the choice of a bamboo floor covering, one of the most important factors is the hardness and durability of the material. The bamboo covering can be two types – from the burned and natural bamboo. The burned bamboo has more dark color, but it is much softer than a natural bamboo. For achievement of such saturated color, the bamboo is exposed to steam treatment, that's why it becomes softer. The flooring made of natural bamboo is harder and lighter. According to hardness, the bamboo is quite comparable with a tree.
The hardness of a laminate can be different, depending on the breed of a tree. Usually, floor covering is compared to a red oak – one of the most popular breeds of wood for a floor covering. The floor covering from a natural bamboo is about 50% stronger than a floor from a red oak.
Variety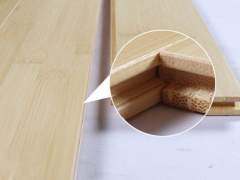 At a bamboo floor covering, there are a lot of versions considerably differing on quality. For determination of the quality of a floor covering, first of all, pay attention to finishing. Rub a surface with an edge of a coin and check result. you will have to re-polish the floor for every few years. However, it is often quite difficult to finish a bamboo floor again. Connoisseurs of a bamboo note that in a case of the proper care, a bamboo floor should be never finished anymore. It, of course, if there is a high-quality floor covering.
On the other hand, a floor from a whole tree can be finished a set of times. For this purpose, it is enough to remove the top layer of paint material and to grind a floor surface. It is difficult to revaluate such opportunity if you often like to change an interior, including the color of furniture and walls.
Appearance
One distinction between a bamboo and laminate literally is evident – it is appearance. The bamboo covering is usually made either dark or light. But, in both cases, you will observe strong distinction in shades throughout all room. It can look beautiful or inappropriate, depending on the style of an interior.
At a laminate covering, there are a lot of color options and designs. Depending on the breed of a tree, wood can be almost white, yellow-brown, red-brown, pinkish, brown, gray, black and still sets of shades. At some breeds of a tree, the texture of fibers is poorly expressed and uniform, at others – fibers forms the fancy strips, curls and other patterns differing in unevenness. The appearance of a laminate depends on the breed of wood.
Installation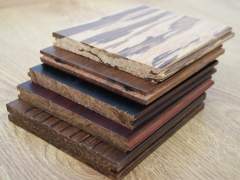 Laying of a bamboo floor is made by several methods. The most widespread of them – is gluing of bamboo boards to wooden plates or an attachment of metal brackets to the wooden basis of a floor. Some kinds of a bamboo covering are installed by a method of a "floating" floor, but it requires thorough careful preparation of the basis of a floor and it isn't always possible. Anyway, the basis of a floor should be smooth.
The laminate covering is usually nailed or glued. But, many types of a wooden covering can also be laid by a method of a "floating" floor too.
Eventually, the final decision at the choice of a floor covering for your house will be based on its appearance, cost, and durability. Considering these factors, you will be able to make the optimum choice, which is most of all meeting your requirements.