Several easy ways on how to build a temporary wall and divide your room according to your purpose. Review of the most widely used materials.
If you live in rented housing or have a studio apartment which is required to be made into a two-room flat for a certain period of time, an installation of a temporary wall will do. Temporary wall doesn't need edging, and it is easy to remove with a minimum of mess. Determining how to build a temporary wall, make a drawing of your home specifying where exactly you want to place the partition.
Use of insulating materials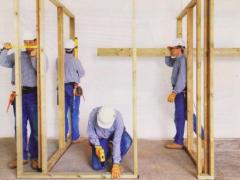 The insulation is necessary to protect existing walls, ceiling and floor from damage, as well as to provide the necessary pressure for the safe placement of a temporary wall. Before you do anything, put an insulation gasket on the surface, which will be in contact with a temporary wall (floor, ceiling and side walls).
But to divide the room into separate soundproof cabinets it is better to mount the plasterboard walls with insulating material. They are absolutely reliable: allow hanging heavy shelves and attaching the washstand.
How to choose the material?
The basis of any walls consists of a frame and so-called "filler". They are usually made of:
Frame – aluminum, PVC, wood (or its substitutes: MDF, chipboard, hardboard);
Filler – glass, plasterboard, plywood, wood or its substitutes, plastic panels, aluminium siding and so on.
There may be combined variants.
Expert opinion is unanimous: you need to choose the material basing on the objectives that you set for yourself. If, for instance, you are intended to separate the toilet and bidet from the bath, it's better to use a water repellent plastic embedded with opaque (stained) glass.
If you've decided to divide a spacious room into a few small ones, you can put a transparent (glass) walls into plastic, aluminium or wooden frames.
The most common materials for temporary walls
Plasterboard. The metal frame made up of stud sections is mounted on load-bearing structures of the apartment and covered with gypsum sheets. For the walls plasterboard is used mainly. For better thermal and sound insulation the frame is mounted onto the polyurethane or rubber tape, and a glass wool or mineral wool layer is laid between the panels.
There are no restraints with regard to the length of the walls. But the height of the walls is determined by the type and thickness of steel studs and the distance between them.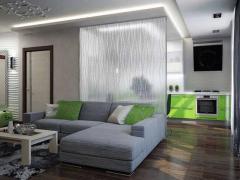 When deciding on how to build a temporary wall using plasterboard, you are to determine whether single or double frame is needed. As a rule, in regular apartments the ceiling height doesn't exceed 10 ft, so for the simple home partition a single frame would be enough. In this case the partition load calculation must be taken into account. The latter also determines the gypsum sheet thickness and type of the frame.
Such temporary wall design allows for the hidden wiring. To do this, cut a hole in the stud so that the cable goes across the studs. The holes for sockets and switches are cut in the plasterboard sheets. Paint the drywall sheets with any type of paint.
Aluminium and PVC partitions
Aluminium profiles are lightweight and durable. They are very fast to install and allow putting in any filler.
The aluminium frame can be inserted glass (it gives low weight for the construction) and non-transparent materials: plasterboard, chipboard, MDF, laminates, aluminium cladding. These partitions do not need further trimming because all materials used are already treated turnkey. The partition turns "striped" – the filler is inserted into the frame and doesn't close it completely. The frame is visible on the outside. Therefore, in terms of design, it is essential to select the proper color of the walls.
How to build a temporary wall of wood?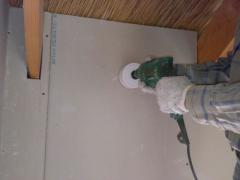 You can make a wooden partition from MDF profile – it is something average between the walls and furniture. Features of profiles' modular design allow making conventional light partitions, but you can also mount furniture items into them. For example, you can make open shelves or combine a complex system of racks, a computer workstation, home theater racks, wardrobe and even a pull-out bed with a partition. Any type of doors will be suitable: swing or sliding. The temporary wall thickness depends mainly on the design.
The wall frame is filled with solid wood, MDF, plywood or chipboard with a thickness of 4 to 20 mm. The finishing of the wall may be rather diverse – from tinted coatings, which do not veil the wood texture, up to paint covering.
Note that the total price depends on many various factors, so giving even an approximate calculation of the average temporary wall cost is almost impossible.