Today, everyone strives to make own house like something personal and unique, using partition walls. Let's get an answer on how to build a partition wall and make the unimaginable design.
Ideas for the territory conversion may be really different. It all depends on the design of creating space. Perhaps, a room should be enhanced, or vice versa, a large space needs to be divided into small parts – zones. With this task only a partition can handle.
Several tips for making barrier wall construction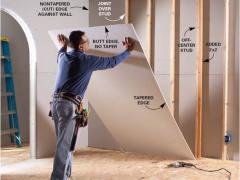 There are the most important basic tips and rules for the room redevelopment and wall installing:
Before to prepare a project of the internal room refurbishment you should design a bearing wall, because it is not subject to demolition.
The bearing wall can snap with a barrier construction, which does not contradict to the permitting system for rules of building reconstruction of the inside housing.
Types of partitions
Depending on mounting methods, these structures are created as mobile or stationary room constructions:
gypsum board;
glass, using a metal, aluminum or polyvinyl chloride (PVC) of the frame;
transforming.
And also foam concrete, brick or wooden structures.
The partition, in fact, is a wall that divides an existing space into different function areas. Indoor space can be divided both in a full or just part area. The partition thickness depends on used materials. Standard thickness of the bulkhead should be 5 inches. But there are also non-standard solutions, for example, if a partition is arranged by cabinets, racks, or shelves.
How to build a wall partition of the most popular building materials?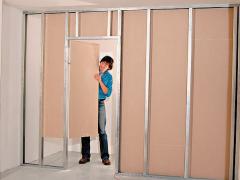 Internal walls of limestone, bricks, aerated concrete are often installed in houses with reinforced concrete flooring. The thickness of a brick wall can be 2,5 or 4,5 inches. In the last case it is recommended to make additional layers of mineral wool with a thickness of about 2 inches from both sides for sound and heat insulation. Quite often in the wall of bricks builders hide pipelines, so it usually has a thickness of about 15 inches. Exterior finish is carried out with plaster.
If the whole building design is made of aerated concrete, make your wall barrier of the same material with thickness up to 5 inches. Ceramic blocks are used for making interior walls with the same thickness as of aerated concrete. These construction materials are much easier than bricks, so it is advantageously to use in cases, where you need to reduce some load on the overlap. Installation of such partitions is performed after capital bearing walls are already built in your building.
Installation stages:
Level the subfloor with cement mortar.
Begin the laying process from corners and constantly check a vertical level.
At places of partition wall connection it is necessary to leave grooves up to 2 inches.
Between the ceiling and top of a structure drive in wooden wedges, and then fill in the gap with some cement solution.
Because bulk blocks materials are smooth, they can be comfortable to work with even for a beginner. To obtain masonry lines smooth, fix wooden slats on the floor and wall. If you are working with concrete, do not forget about waterproofing that needs to be laid in the ground. It is recommended to reinforce brick walls with any dimensions. When working with other materials you need to carry out reinforcement if a wall is high or thick.
Creating a barrier with a door
Often during repair it is necessary to implement radical changes and make alterations in premises. Consider a few ways how to build a partition wall with a door.
Description of the installation
The first step to get started – contour markings on the floor and walls of a future aperture to meet exact dimensions, and taking into account the thickness of building material.
The resulting scheme is then transferred onto a sheet of material (like gypsum cardboard) and cut a single piece by a fret saw, or other tool. Set them aside for a while.
Fasten a main profile with dowels to the floor and wall at the aperture top.
In the main profile fix rack and guide fragments, connecting them together with screws for a gypsum cardboard profile.
How to build a temporary partition wall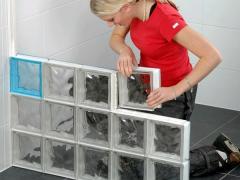 Temporary partitions are the best option. First, they perform their basic function that is the room devotion into parts. Secondly, this design at any time can be removed so as to maintain the space integrity and it does not reduce the premises area.
One type of such structures is a sliding temporary barrier. It can be installed in a room with already made repairs, as a finished product that does not require subsequent finishing. Because of large design varieties of such products, there is no difficulty with the selection of just one design that naturally complements the interior.
Another very common way of room separating due to stationary structures, it is a gypsum cardboard barrier. However, it is preferred to perform the installation process during repair activities in a room or apartment. Such a construction can be built as a continuous and false-partition, which divides an area not completely, but conditionally separating several zones, and thus has a decorative function.