If you have ever dreamed of living in a wonderful log house surrounded by nature, let's find out how to build a log cabin, bringing inner pleasure process.
A log house with your own hands is a dream of many owners of suburban areas. Wooden materials are warm and have a unique ability to store heat and provide natural ventilation. The house of logs will always be comfortable with easy atmosphere. The answer on the question of how to build a log cabin is quite difficult, but it is really possible to carry out the main stages of construction without the participation of professionals.
Cabin designing and planning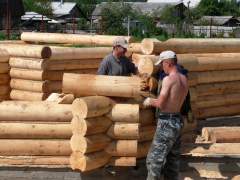 The first part of the step by step plan is always project preparation, reflecting all the features of a future house. This includes the number of floors, size of rooms, roof type, general view of the facade, communications and more.
The owner must clearly understand what kind of house in the end he prefers to get, and what costs will be needed. The estimate should be as complete and detailed as possible: it is better to carefully evaluate the costs, than to be left without funds to complete construction.
The project is not necessarily to develop from scratch. You can find in the network dozens of ready projects that can be modified to meet individual requirements.
How to start the construction process?
The classic log home design is a blockhouse – frame walls of logs prepared with the help of tool joints. The traditional method of logging is a way "in the cup", in which each successive timber is placed in a semi-circular recess. Today it is really possible to order the construction of a log house technology "Canadian" or "Norwegian cup": they require more carpentry skills, and it will be problematic to get a quality log connections.
If you are going to build a log cabin yourself, you need to decide which one material to choose. For a log home, there are two main options: "wild" frame of logs. It is a wooden layer, where only the top layer of bark and twigs are removed.
The main protective layers of timber remain intact, providing protection from moisture and rotting. But it is clear that a trunk cannot be completely smooth: the lower part is thicker than the top and you should follow when installing for alternating of a butt and top to make walls smooth.
The house will be beautiful, like a fairy-tale cottage and its completely smooth walls will be suitable for subsequent finishing. However, during the rounded process of wood, protective layers are removed, and the house will require a thorough impregnation with antiseptics, or beauty will be short-lived. Materials may vary more and the cost of round logs can be significantly more expensive.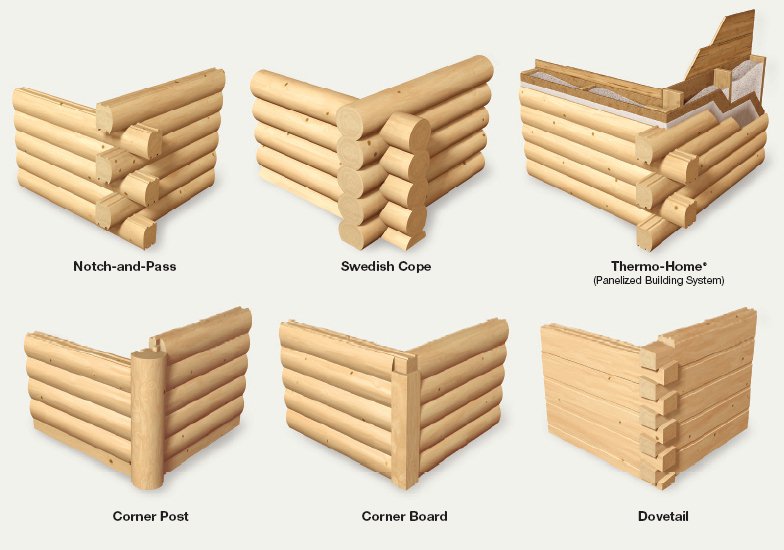 Materials selection
It is important to choose the wood type for building your own log cabin. The high-quality timber can be spruce, pine, fir, cedar, larch.
pine has a wide color gamut and high technical properties. It is the most affordable;
larch is not flammable, but a great weight of logs complicates installation and delivery;
fir stands out with the natural beauty of the fiber structure, but its strength is poor;
cedar is light and beautiful with excellent quality, but at the same time it has the high cost;
poplar has an increased fragility.
Foundation layout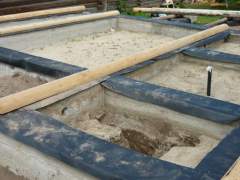 The house made of wood is considered to be a light structure. For this type of houses the pier and strip foundations are suitable.
Pier foundation. With such a foundation it is impossible to equip a basement space. But it is advisable in frozen soil conditions. Such a foundation may be set below the freezing depths of the earth. Buckling of the land is performed in a frozen layer. At the bottom of piers it is expanded. Between piers, located on the perimeter of the house, make the screed using iron fittings.
Strip foundation. This type of foundation provides uniform weight distribution throughout the perimeter of the whole construction. It provides protection against earth buckling. This option allows the existence of the foundation basement between its wall blocks. Strip foundation is monolithic and precast. All variants of the base are placed on the sand-gravel cushion soaked by moisture barrier. This impregnation will not allow ground water to dilute it.
After installing the formwork and placing of the reinforcement cage, the concrete solution is filled and then compacted. It should be given time to dry completely. The concrete foundation is covered with the waterproofing layer, only then it is possible to stack the logs.
Precast strip foundations are harvested from wall blocks and pillow blocks made in rubble concrete factories. They are assembled on the spot. Precast continuous strip foundations with its strength are above monolithic base. Their block walls can be solid or hollow.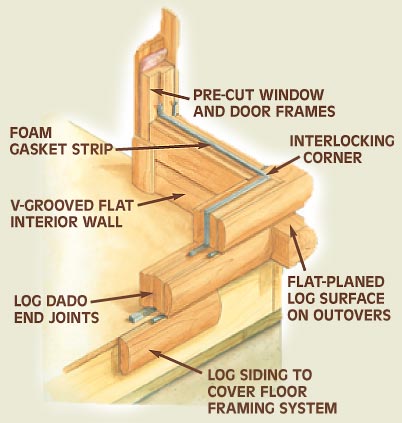 Building walls and partitions
The walls are laid out according to the project: there should be indicated the number of openings and the location of doors and windows. At the bottom of each log a longitudinal semi-circular groove is selected for a lasting connection the logs between each other. Between the joints a layer of insulation roll made of natural materials should be placed – it will avoid gaps and prevent the occurrence of drafts.
Partitions in a log house by hand can be installed in several ways. They may be:
Frame-shield. This precast design can be of any size, which is based on a framework of boards installed vertically and connected by a horizontal beam. The frame is sheathed by edged boards and is set into the grooves selected in the floor and ceiling. Double layer partition enables efficient soundproofing.
Solid. This type of walls is built of timber, which is placed in grooves in the opposite walls. The solid partition is going on spikes, and can be additionally sheathed with sheets of plasterboard or particle board.
Plasterboard. This thin partition may easily divide the space of the room. The frame may be wooden or metal. It is important to consider, when you install the finished shrinkage. Plasterboard walls can be covered by various finishing materials.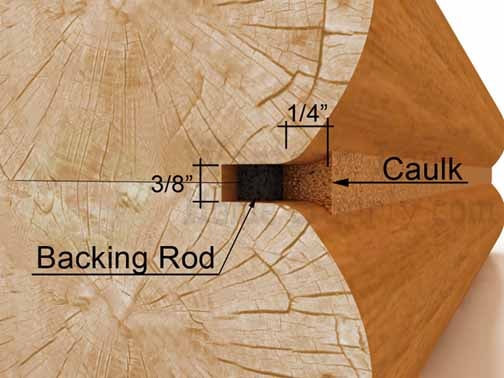 House finishing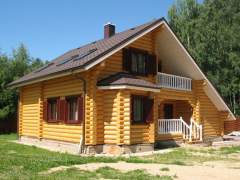 The decorating process of a log house with your own hands can be performed in a variety of ways: beautiful log walls are rarely closed with other materials, because due to this they can lose one of the main advantages of a log home – a kind of interior that will create the unusual cozy atmosphere.
Logs after drying and shrinkage completion must be sanded, and then coated with antiseptics in several layers. The finish can be very different: the wall can be sheathed by naturally occurring materials (paneling, block-house, sometimes plasterboard can be used). On the floor can be laid parquet or floorboard, an interesting solution would be cork flooring. As for decoration, it is not desirable to use plastic and other artificial materials here. They will lead the building to the ecological decline.
It is not too easy to build such a construction, but the building, erected with love, will be truly loved by all family members. You can create a cozy and warm home that will serve many generations of residents.