How to build a pergola for a wonderful garden decoration? Use this simple way to create it with your own hands.
A pergola is a charming type of latticed arch, espalier, arbors, and canopy. Distinctive features of pergolas is the small architectural design created in the form of openwork corridor with the vertical supports and horizontal arc elements, which points the way into the garden and delights the eye with bright floristry colors.
What is the pergola?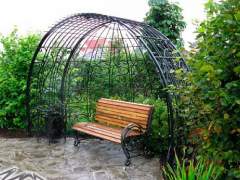 A classical pergola looks like a structure of several arches, standing together and connected by a lattice ceiling. Thanks to the elegant form of construction, the usual path becomes the element that invites you to a fascinating walk into the garden. The first pergolas in the Roman Empire served to support vines and did not differ with great diversity. Modern range of openwork corridors is the main element of landscape design. It can be a freestanding pergola or pergola attached to the house. The popular construction is pergola over a deck. The process of how to build a pergola is characterized by the variety of solutions and decors.
Popular solutions of pergolas
Modern types of pergolas are different from the first inventions only by purpose – the construction is intended to provide a pedestrian passage between the garden parts, the visual selection and creation of recreational areas and shadows. Structurally, pergolas as well as in the Roman Empire are made of arches, which are interconnected. However, a pergola of a modern format does not support the vine, but the luxury floristic – ampelous plants with creeping or prostrate stems, nasturtium, clematis, actinidia, tuberose, honeysuckle.
A pergola can be very simple construction made of larch logs. This inexpensive design will suit for owners of rustic and country cottages. More complex types of pergolas, consisting of stone columns carved with oak beams, decorate the landscape of houses in the nobility or luxurious styles of area, but will require a significant cash outlay.
What materials are the best for building a structure?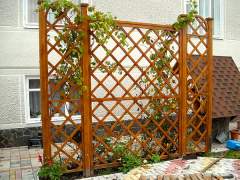 Different materials are used for creating pergolas. The preference is given to the construction, which harmoniously fits into the overall plot design.
Wood. This material is the most popular, because it is able to match almost any style. Wooden pergolas are remarkable for their special aesthetic appeal. The important fact is also that quite a bit of time is needed for the erection of a wooden structure.
Metal. Wood is attractive for its naturalness, but metal is a leader in durability and strength. If you do not forget to take care of it and prevent rust, the lacy wrought-iron building, overgrown with plants, will stand for decades.
Stone or brick. Facilities of this material are fundamental and have a luxurious appearance. When planning how to build a pergola and what materials to use, consider how well it fits into the plot: a stone construction is not great for small areas. It instantly becomes the center of attention, and the rest beauty fades. But in large gardens a stone construction can become a real decoration.
Plastic. This material is also used to create pergolas, but it is less in demand, though it is available at a price. It is hard to blend its facilities with the whole plot design. However, when plastic is hidden under green plants, construction materials are not be so important.
Most materials are used in combination with each other. Timber is perfectly combined with the stone and metal.
Preparation stages
Pondering how to make a beautiful and functional pergola with your own hands, at first you should make sure that it can occupy a suitable place in the area. At this stage you should purchase all the necessary materials and tools to prepare for the building process.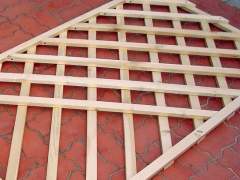 Materials:
building solution;
crushed stones;
wooden bars 2×4 inches;
screws, nails;
roofing material.
Tools:
tank for a solution;
shovel;
measuring tool;
trowel;
chisel;
hammer.
After preparing the materials and tools you need to level the ground, dig a trench with a depth of 10 inches for the foundation wall and prepare the building solution. Then fill up the trench with crushed stone and lay a wall to a height of 15-18 inches. During this process you need to seal the support – vertical bars: treat the timber ends with hot bitumen, wrap with roofing material, dry and fix by one on each side of the wall.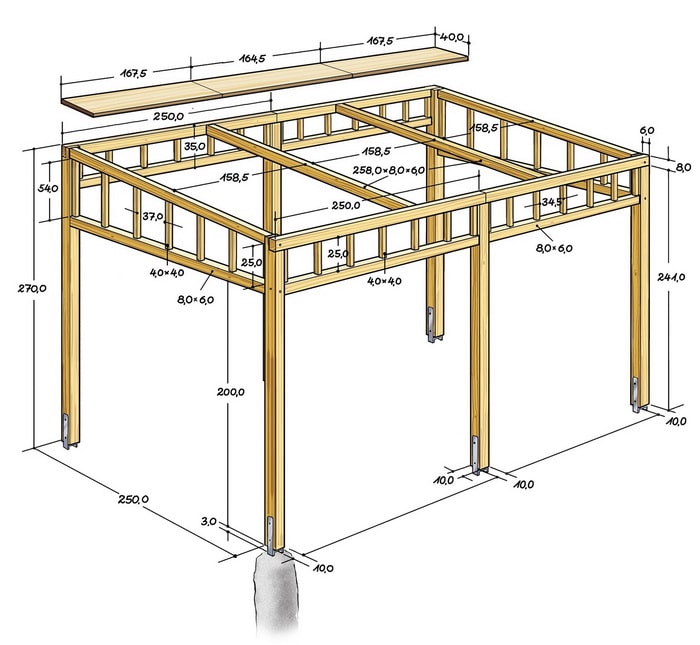 The next stage of work is making two holes under the bars at a distance of 40 inches from the wall: dig a pit, treat timber, set the bars and fill with concrete. The optimal distance between supports should be 60 inches. The final stage of work is the bars installation: longitudinal and transverse. First, you need to install on each pair of supports longitudinal bars: place bars, connect in the T-shaped manner, put short jumpers – cross bars.
At the end of these works you can begin to decorate a pergola – choose bright floristic variations, which will be the hallmark of an elegant building.
What plants are the best for decoration?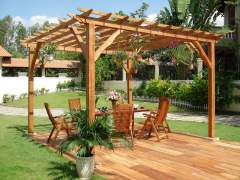 Do not forget that one of the intended of pergolas is to create a support for climbing and ample plants. They form the saving shadows, which are so attracted at a hot summer day.
Vines are the most commonly used to support the pergola. Decorative or cultural vines both look great on this building.
Effectively look the entangled pergola by Chinese magnolia vine, actinidia, clematis and vines, nasturtium, honeysuckle, celastrus, and even hops. With the last plant you need to be especially careful, because hops, growing haphazardly, are able to flood the whole garden.
Wisteria and twine roses always attract the attention, which are particularly common in the southern regions. All the plants that adorn this structure need care, feeding, and timely watering.
It must be remembered that the growth of plant needs time. While the design remains not twined, it can be applied with protective varnish for outdoor use. A shadow can temporarily create a fabric cloth, placed on a horizontal surface of a structure – pergola roof.