Bamboo flooring becomes more and more popular nowadays, so this article is for those who have the 'How is bamboo flooring made?' question.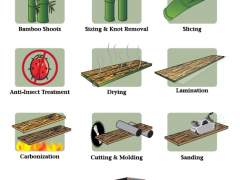 Recently, it was believed that bamboo flooring can be seen only in East Asia. But the use of bamboo flooring becomes increasingly popular in the European and North American regions. Let's talk on this question – how is bamboo flooring made?
What is bamboo?
Bamboo interior looks very original and fresh. Interior designers recommend this type of flooring which point to its unique characteristics and aesthetic properties. Bamboo flooring is a modern, safe and environmentally friendly alternative to commonly used building materials. As a building material, bamboo is very flexible, moisture-resistant and quite hard (hardness of bamboo surpasses oak).
Bamboo is a grass
Although bamboo is sometimes called a tree, it belongs to the herbaceous plants (grass) and, therefore, it is a rapidly renewable resource. It will take at least 15-20 years before a normal tree to grow so that it can be used for the manufacture of flooring raw material. As for bamboo, it takes only three to five years to grow up to 4 inches in diameter – usually the stalks of this width are used in the production of the flooring. Bamboo grows very quickly – it's hard to believe, but the world record growth rate is about 2 inch per hour!
Eco-friendliness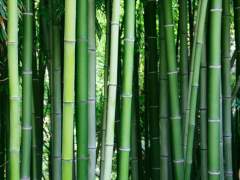 You'll be pleased with the fact that bamboo will remain in the ground for 5-7 years ONLY before it becomes your flooring. Compare this with 60-plus year old tees, you will understand why the choice of bamboo is the best for environmentally conscious consumers.
Comfort of bamboo flooring
Western designers have now agreed with the view of their Asian colleagues that bamboo flooring is not only practical, but also beautiful and functional. Laying bamboo flooring is simple and similar to the laying of parquet flooring, but due to the fact that it does not require scraping and varnishing, excellent and effective results are achieved immediately. The 100% natural properties of bamboo flooring make it resistant to moisture and harmful insects.
Bamboo manufacturing process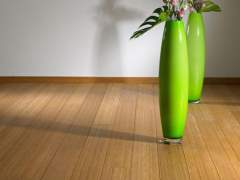 For the production of bamboo flooring, the manufacturers uses the stems of an age of 4-6 years – they are already mature, but still not too old. The diameter of the stem at a height of 3 feet from the root to be about 4 inches.
The steps of the process:
Bamboo stalks are cut into lengths of cloth in accordance with the length of the future board.
Each one is cut along the radius and split into strips (straps) 15-17 mm wide.
The prepared strips are treated with hot water to destroy sugar and insect larvae.
The pre-treatment finishes dry.
Prepared strips are sorted by color (traditionally there are 9 shades nowadays).
The boards are glued under the pressure.
The final step is sawing the resulting solid boards into the pieces of almost finished bamboo parquet.
Boards are sanded, covered with several layers of lacquer, packed and shipped in containers.
Carbonized bamboo boards
For the production of carbonized boards, the strips go through carbonization – anoxic process of heating. By varying the duration and temperature of the process, you can get different shades of color of the finished flooring – from almost natural bamboo shade to dark brown.
As a result, you will have the opportunity to indulge in buying bamboo flooring, which is sure to become a gem of the interior of your apartment or house.