What is the best flooring for bathroom? Which material to give preference to? Such questions are given by owners of apartments and houses, who have started a repair in the bathroom.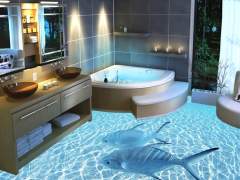 Flooring repair in a bathroom is a difficult stage in the apartment design. Pipes that need to be carefully hidden, high humidity areas requiring the use of special finishing materials – all this greatly complicates the task. And if you decide to make repair, you probably wondered about the best flooring for a bath, which is beautiful, durable and avoid the chance of flooding your neighbors.
Requirements for the bathroom floor
The bathroom floor meets the following requirements:
Environmental friendliness
Safety for the movement
Beautiful appearance
Protection from heat loss, noise and adverse moisture
Durability
Beauty in the service
In fact, each of the above requirements can be really achieved. It should be divided into two main components, the observance of which enables to perform it: the right choice of flooring and strict observance of stacking technology. Before starting work, read about all flooring types that you can use in a bathroom.
The choice of the bathroom flooring
Today you are offered a wealth of flooring options. When choosing the material, you need to consider the budget, personal preferences and of course performance.
Cork flooring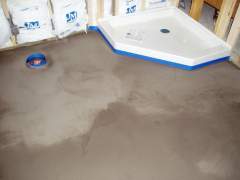 In recent years, many owners opt for their bathroom cork flooring. Such a material has a huge number of advantages: pleasant and warm to the touch surface, does not spring, rot, or absorb water, there do not breed fungi. Compared with tiled flooring, it is absolutely non-slip. Cork under feet pleasantly springing and quickly returning to its original position. Moreover, it is completely natural and hypoallergenic. Note, however, that only cork does not absorb moisture. Floors on the basis of HDF do not have this feature. For this reason, give preference to cork array with a thickness of from four to six millimeters, glued to the base.
Self-leveling floor
One of the simplest choices is self-leveling flooring. It has recently acquired recognition and high popularity. A significant advantage is still waterproofing properties, ease of installation, a variety of colors and patterns. In addition, you can lay a "warm floor" system under this floor. But at the same time, self-leveling floor has obvious disadvantages:
easy to ignite,
freshly prepared mixture has toxic composition,
requires a smooth base,
unnatural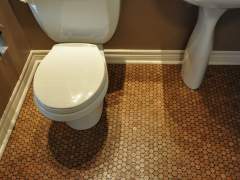 Self-leveling floors are durable, hygienic, and moisture resistant and they look very impressive. If necessary, you can find pictures with a 3D effect. This coating allows almost unlimited number of design, for example, under a transparent polymer you can place anything you want: photos of nature, pebbles, sand and other natural materials. These floors are perfectly combined with any interior.
Tiles
Tile is the most popular and widespread material for flooring in a bathroom. And despite the fragility of tiles and complicated laying technology, people prefer it due to a variety of colors and shapes and naturalness of material. You should not be stopped by the fact that during the tile damage you have to perform the replacement of the whole plot. All for the reason, that during the dismantling of tiles with a slit, their joint will be damaged. But however, aesthetic beauty is more important.
The positive qualities of tiles in the bathroom:
ease of maintenance;
sustainability;
fire protection;
inability to absorb odors and water;
wear resistance;
long service life.
Among the shortcomings are:
cold;
expensive;
with an insufficient experience, the laying by an expert;
there should not be tolerate heavy blows;
poor sound insulation.
Tip! The tile is desirable to be with a corrugated structure, so you will not slip even on wet floors.
Wooden floor
Nowadays, this floor is found extremely rarely in bathrooms, because not every timber can regularly withstand high humidity levels. Type of wood flooring depends on the timber itself. For wooden floor larch and teak are used, because they provide additional waterproofing. This floor is beautiful, warm and healthy. Nevertheless, experts recommend replacing wood by moisture-resistant laminate that will be more suitable for a bath.
Linoleum floor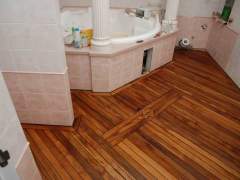 As the finishing covering in the bathroom, you can use linoleum flooring. It will be an additional waterproofing, easy to installation and maintenance. However, there is one major drawback – it can quickly wear down and lose its visual appeal. Actually, linoleum is used as an economy version or temporary covering.
Attention! You should chose moisture resistant laminate for a bathroom, but even such a material does not tolerate permanent contact with water.
Vinyl flooring
Vinyl flooring quickly has won the trust of consumers, surpassing a ceramic tile. And no wonder, aesthetics, durability and wear resistance, abrasion resistance, water resistance, easy maintenance and installation have made it very popular. There are not only a large variety of colors, but also paintings. Everyone will find items from the traditional imitation stone and tile to unique and highly realistic paints of various kinds of wood.