There are too many argues nowadays dealing with natural properties of veneer wood – it's time to answer the question "What is veneer wood?"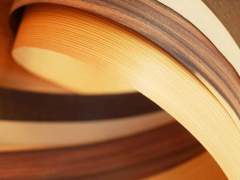 Nowadays, more and more often you can see veneer finishes, furniture, doors and other items made of veneer. But not too many buyers can answer the question "What is veneer wood?"
The most popular versions are:
Someone thinks that this coating has only a superficial resemblance to timber and can not be called natural material.
Others confuse veneer with laminated chipboards declaring that there is no difference between them.
Most people still have no idea or find it difficult to deal with the definition of the concept and ask the shop-assistants what veneer wood boards made of.
Is this material natural or not?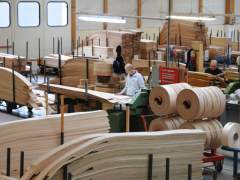 Let's open, finally, the veil of secrecy. Veneer is a thin slice of real solid wood. This means that the veneer is completely natural. The main advantage of veneer wood is that it preserves the inherent wood pattern. Make a drawing of wood artificially using any modern technology is impossible – it is unique.
There are two types of veneer wood:
sliced veneer
peeled veneer
Externally, veneer wood does not differ from the regular wood. Veneer boards are durabl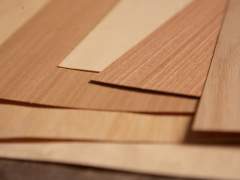 e. Due to the fact that veneer's foundation is a chipboard or MDF, this material does not stratify. It is worth noting that if we buy veneer items, each of us contributes to the preservation of forest on the planet – we save about 10 square feet.
One of the main advantages of veneered items is their cost, which is significantly lower than the price of solid wood. Since the difference in appearance is little, there is no need to spend more money.
The production of veneer benefits
The use of veneer has given a new impetus to the industry. It has become possible to produce lighter and more affordable finishes, doors, shelves, etc. It greatly reduces the amount of wood in their production. An important result of the production of veneer doors and interior items is the possibility to use the desirable kinds of timber which were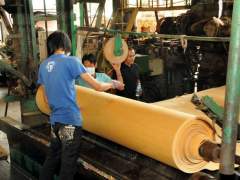 considered unsuitable for use because of their physical dimensions (for example, beautiful roots or exotic trees). A veneering technology (bonding veneer on a stable foundation – MDF, particleboard, plywood, etc.) made it possible to produce finishing products from materials that are not subject to deformation and cracks which is typical of solid wood.
Conclusion
So, veneer is a natural material. It is very pleasant to the touch. Home furnishings with veneer coating usually look like made of solid wood. So, the only difference is cost. Experts say that thanks to the veneering technology we can get items made of precious wood – that was impossible for use before. This is understandable – the same amount of expensive wood can now provide greater number of doors and other items made of it (1 square feet of solid wood gives us 50 square feet of veneer wood).