Modern thermal insulation materials and requirements to them, their types and main characteristics.
Every building needs thermal insulation to provide comfort living space for people living in it. It's very important to perform the thermal insulation process for your private house in a proper way for it not to have dangerous "thermal bridges" which get warmth away from you and can harm your health. In this article we will try to give you the information on modern thermal insulation materials to help you to choose the best one for your needs.
What is thermal insulation? This material should serve several functions, all of them dealing with creating the comfort and healthy atmosphere in your living space. The basic requirements for thermal insulation materials are the following:
High thermal performance – the better the material insulates against low temperatures in winter and high temperatures in summer, the better it is.
Low weight – this will provide you cheap transportation, ease of operation; there will be no need to strengthen the walls, foundation, etc.
High vapor permeability – allows excess moisture from the premises and the construction of the building to avoid appearing of fungus and mold.
Choice of finishes – the material must be capable of decorating; the greater the variety of finishes you can use, the better.
Durability – a necessary condition for long-term performance of the material.
Environmentally friendly – it should be safe for human health.
The price – good materials can't be cheap; don't save on your health.
Flammability – the lower the indicator of flammability of the material, the less additional investments will be needed.
The most effective insulation materials:
Polystyrene foam
Extruded polystyrene foam
Basalt mineral wool
Laying of aerated concrete density
Penofol foil rolls
Ecowool
Foam glass
Polystyrene foam
The main advantage of the thermal insulation boards when you deal polystyrene foam boards is their thickness. This material is suitable for any further finishes without any special training. Guaranteed service of life of the insulation of this kind is more than 25 years. Its only drawback – it's relatively flammable material. It's not recommended for wooden houses. It will always protect you from the effects of ultraviolet radiation.
Extruded polystyrene foam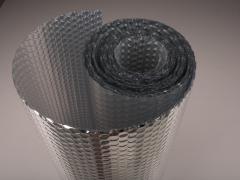 This material is quite good and not pricey. Guaranteed service life of the insulation of this kind is more than 25 years, but nowadays the tests have showed it's up to 50 years. This material is flammable, so it will be necessary to arrange additional ventilation. By the stage of finishing the implementation of any suitable material will be possible, but while applying the paint adhesion layers to the surface will have to be well prepared by performing the roughness process. It will always protect you from the effects of ultraviolet radiation.
Mineral wool
It's rather expensive material, so it's not a surprise that it has an excellent vapor permeable and doesn't burn all. With the help of this material the so-called "blanket" type of thermal insulation is created. The thermal blanket insulation is performed with the help of fiber blankets. This is a strong, lightweight material made from alumina, zirconia and silica spun ceramic fibers. S This material has high density, that provides durability for more than 25 years and all types of finishes possible.
Laying of aerated concrete
This is a super thick and heavy material, but it has a good vapor permeability. It's the non-combustible material. It should also be noticed, that the fact that this material is structural will allow you to reduce the relative value of the share of insulation in building construction. Dealing with aerated concrete all types of finishes is possible.
Penofol foil rolls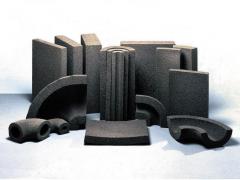 Thermal insulation foil rolls (polyethylene foam with foil glued on both sides) have good thermal resistance and weight. But it is very expensive compared to the other kinds of thermal insulation. Thermal insulation of building walls with penofol foil rolls will make the process even more expensive, because there will be additional investments because of costs of additional ventilation systems and performing of ventilation events. The properties of this material (non-adhesion of polymeric materials and cement) severely limits the choice of finishes and reduces the range of cases it can be used. The presence of foil on both sides of this insulation material does not affect the thermal resistance of the walls, a slight improvement in thermal resistance is observed only in a closed air space, the effect of which is measured within the mathematical error, and such layers in the construction of the building is almost no. The main drawback of the material is its thickness – about 5 inches.
Ecowool
This material is not pricey and very practical. This thermal insulation material is made of cellulose, so its main advantage is now obvious – it's a natural, very environment friendly material. Due to its looseness and weak bearing capacity, the rich choice of finishes is impossible, as is the case with thermal insulation foil rolls – it can be poured into brick masonry (creating the so-called "well") or sprayed into the frame using the special equipment. Flammability of this material prohibits its use in mass construction. Guaranteed service of life of the insulation of this kind is about 10-15 years.
Foam glass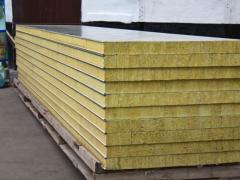 Among the advantages of this thermal insulation material are the possibility of the application of any finishes, durability and flammability. This material may be very pleasing, but it's very expensive, and you will begin to upset even more whan you learn that there will be a need for additional investments of costs for ventilation systems. Guaranteed service of life of the insulation of this kind is about 10-15 years.
We hope this article helped you in case you were looking for some information on thermal insulation materials.