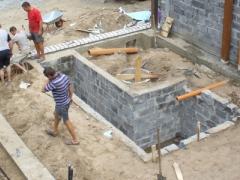 Garage foundation is the main part of the whole building. Its quality influences on conditions, where a vehicle will be stored. High humidity in your garage will contribute to corrosion and rust on a car, which will lead to its deterioration. How to build a garage foundation and make it damp-proof?
Typically, before the basement building, homeowners use services of designers, who gather information about properties and characteristics of the soil and design a future construction, including its basis. But some make their own calculations.
Design calculation of the foundation work for a garage
The main principle in the garage base design is correctly and evenly distribution the construction load on the ground. Drawings may help to take into account all nuances of your building: basic properties and parameters of soil, area type, and underground water level. It is also very important to choose right materials.
At the stage of project and calculations you have to take into account the degree of complexity, aboveground part of the building and its weight. Calculate also technical parameters of the base: diameter, spacing of fitting location, as well as the laying depth, wall thickness and more. These calculations should comply with the rule – the greater is weight and size of the aerial garage part, the wider and more stable basement should be.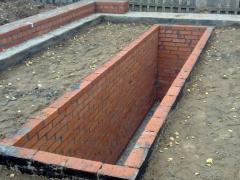 You should also not forget about the depth level of the groundwater and follow advices of experts on work processes and material choice. It is necessary when designing a garage foundation to take into account all soil characteristics. It must comply with the several standards. Soil should be:
strong,
evenly or poorly compressed,
not sliding,
not swelling,
not sagging.
Building tools and materials
The choice of materials for this process is made in accordance with soil features and characteristics. Such materials as rubble concrete, monolith, brick (not silicate), booth and precast reinforced concrete are in a great demand. In cases when your construction is planned with plinth, it is necessary to choose atmosphere- and frost-resistant materials. It is also very important to correctly design a way of horizontal waterproofing location.
Tools selection will depend on the work complexity, but a concrete mixer will not become superfluous. Also in the tool list you can add formwork for reinforced concrete blocks, sticks, small plates to make marking, roulette level, clips, fishing line or cord, as well as shovels (scoop and bayonet) and a wheelbarrow.
Choice of foundation type for a garage
The most reliable and popular type is the strip basement. It is durable and allows you to build a heavy construction with cellars. However, for a garage the columnar base will be enough. So before you go ahead and buy materials, it is necessary to weigh all pros and cons of different foundation types:
Strip. It differs in cross section and materials used for its construction. It can be constructed of such materials as bricks, concrete blocks, and natural stone flagstone.
Columnar. It is easily used to build a low weight construction, like a small garage. It is distinguished by the simplicity and speed of installation, which are major advantages over strip analogue.
Block. This material is considered very expensive and used on unstable heaving soils – a block under the building equalizes basement and soil.
Pile. This method is more favorable to perform in area with a high level of groundwater. Piles are sharpened at the ends and screwed into the ground.
Basement construction
The algorithm of works:
Install bearings with a distance between them of 15 inches.
Mount boards with nails, so to avoid concrete leakage from formwork.
Place inside some polyethylene or roofing materials for easy separation of the construction from cured concrete.
Use shoring to make the formwork fixation.
A good option would be the use of permanent formwork of polystyrene foam or concrete. The advantage of expanded polystyrene is that it solves two problems – formation of the foundation and its insulation. Concrete formwork is composed of blocks mounted with each other. Reinforcement installation and its filling up are carried out in gaps caused by the formwork assembling.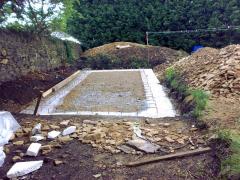 Milestones:
Marking the territory.
Trenching.
Formation and laying of a sand cushion.
Installation works on the formwork construction.
Basement reinforcing.
Concrete pouring.
Implementation of waterproofing works.
Fill up gaps between the ground and foundation with a mixture of soil, sand, broken bricks and stones. The final step is making a blind area and finishing the basement. When all processes are done, including interior finishing, you will get a cozy home for your car, which will protect it from all weather vagaries.
Related Information:
Design of raft foundation example.