In order to keep your parquet flooring to be like a new, it is necessary to look after it correctly. Let's find out how to refinish parquet floors by yourself.
Such actions as regular dry and wet cleaning of a surface are very important, but only they aren't enough. The wooden floor requires very careful care. Moreover, one of its components is a refinishing of parquet. It considerably will increase its term of life and, respectively, such things as the scraping of a parquet, repair, and restoration will be necessary for you much later.
Why is a refinishing of parquet floors needed?
Initially, the parquet is covered with oil or varnish, and its operational properties depend on it. On the surface covered with oil, there are open wood pores, which accumulate dirt and dust, of course, and it spoils the appearance of the coating and reduces its lifetime. The varnish covering is stronger, but it needs additional processing. One weaker point for congestion of dirt, dust, and also a hit of moisture is a space between the seams. It is also necessary for the s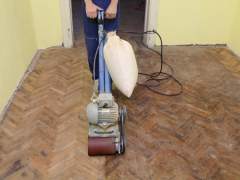 olution of these problems.
The types of refinishing:
glossy;
semi-gloss;
matt.
The choice depends on an initial covering of your floor and cost of means. The most favorable ratio of price and quality is semi-gloss on a water basis.
Semi-gloss one has a number of advantages:
ease of laying;
a speed of drying;
environmental friendliness and safety for people and animals;
the waxes and polymers that are included in the structure, create a brilliant glossy safety film;
low cost.
Before using, it needs to be tested on the small area of a floor in the least noticeable place. It will give you confidence in the correctness of the choice.
The process of the parquet floors refinishing
If you want your process to be the most efficiently, you need to take into account a number of conditions:
Room space. The small rooms require one kind of equipment, and for a big one, it is another different.
How dirty is a surface? The choice of detergent for wet cleaning of parquet, its structure and concentration depend on it.
The covering of the floor. If it is covered with oil, then it is necessary to use wax before, but if it is varnished – wax is desirable but is not necessary.
The parquet floors refinishing without sanding consists of several stages:
Clear a surface by means of the vacuum cleaner and a damp rag.
Carefully wash out the floor with water, It is recommended to use a special cleaner which contains a wax.
Wait for full drying of a parquet.
Apply polish on all surface of a floor with a soft rag, a mop or the roller. If it needs to be put in an undiluted look, for application rate is required the 20-25 grams per 1 sq.m.
The covering has to dry completely, it takes not less than 12 hours.
if the first refinishing didn't give the expected result, carry out the repeated procedure. But, you remember that secondary polishing is put perpendicular to the direction of the first layer.
This way is suitable for the rooms with a small area. Can you do it by yourself? Of course, you can. But, processing of a bigger surface requires the special machinery and equipment.
How to care for the floor after refinishing process?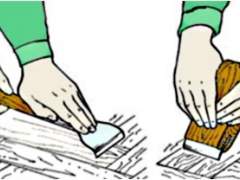 The polished parquet differs from varnished by the fact that its surface isn't varnished. For its protection against moisture, dirt and dust use special impregnations based on beeswax and vegetable oils, which are capable of getting into a wood on several millimeters. Besides, they don't form a superficial film that gives the chance to breathe for a parquet. Impregnations increase service life of a parquet and increase wear resistance of the top layer. There are also special oils for parquet floor— they perfectly keep the natural beauty of a parquet board, emphasize the texture of wood and deepen its color.
The oil laying on a parquet floorboard
Use of these means increases a resistance of your floor to different loadings, but don't hope that after oil or impregnation you will be able to call a crowd of friends and girlfriends who will go and dance the whole evening in footwear, absolutely without serious consequences for a parquet. No, the parquet, of course, will react to such "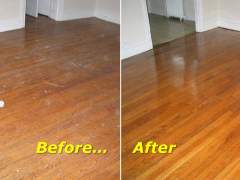 godsend" with the emergence of scratches and even, perhaps, dents. Care of the polished parquet consists in regular dry cleaning, cleaning by the vacuum cleaner and rubbing by a damp rag. And in order to keep it in "fighting condition", arrange periodic sanitary days for it two or three times a year process a parquet structures with natural wax.
The refinishing of parquet is rather inexpensive and easy way considerably to prolong life to your wooden floor. Regularly carried out procedure will provide its reliable protection and will give a beautiful look.
According to the website http://www.wfca.org/