Here we talk about very popular expensive flooring trying to consider bamboo flooring pros and cons with detailed describing its main characteristics.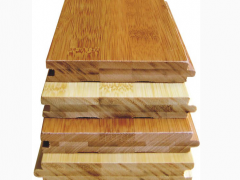 Bamboo flooring has firmly established its position in the world of interior design. Despite this, it is at the same time the material hat still remains tagged "experimental". Let us examine bamboo flooring pros and cons.
Bamboo flooring is traditionally chosen by connoisseurs of the so-called eco-style in the interior. Meanwhile, the bamboo can fit harmoniously both classic and modern interiors. According to many factors, it is not inferior to the usual wooden floor and popular floorboard. Not too often we hear a lot on bamboo flooring pros and cons, etc. But it is worth to pay attention to what to expect from a bamboo coating. Let us talk on pros and cons of bamboo flooring.
The main benefits of bamboo flooring
Bamboo is a natural material that does not cause allergies. It provides fashionable look to the interior. Moreover, the material has some very important functional advantages:
high strength (being compared to oak floor, bamboo is 50% stronger);
antistatic properties (it is much easier to clean);
high moisture resistance (lighter stains caused by liquid do not remain on stranded bamboo flooring);
high fire resistance (it is explained by the special bamboo processing technology);
low costs (bamboo parquet is much cheaper than wooden one);
the possibility of staining – any colors you like (not only the natural timber-looking shades are possible – bamboo flooring can be steel, dark brindle, etc);
excellent thermal insulation (natural bamboo maintains comfortable temperature and the microclimate of the living space);
the material is not susceptible to insect – bamboo flooring can not be exposed to insects, which increases its service life;
the possibility of re-polishing – fortunately, the surface of the material can be re-polished to give it a fresh look (the number of grinding operations will be determined by the thickness of the board used).
The main disadvantages of bamboo cover
As with any material, bamboo, despite all its advantages, has some serious disadvantages – nothing is perfect on Earth. They are dealing mostly with it being use – so, it is necessary to know all of them in advance, in order not to overshadow the joy of the beautiful interior with rather unpleasant surprise in the form of scratches or cracks.
The minuses are:
risk of injury with a sharp object (subtle furniture legs will cause irreparable damage to bamboo flooring)
the tendency to fade (under direct sunlight bamboo can burn)
the difficulties during the process of laying (compared to wooden flooring, bamboo is more difficult to mount, moreover, it must adapt to the room temperature for two days being left there)
the risk of delamination in case the wrong care takes place (excessive humidity, constant mechanical stress)
lack of durability of data (history of bamboo flooring started only recently, in 1993, so there is no statistical data on its service life)
low sound insulation – bamboo parquet poorly absorbs vibrations and noise, as it contributes the reflection of the sound waves to the surface, rather than absorbs it (one must be prepared to this while purchasing the material)
Design, texture and color of bamboo flooring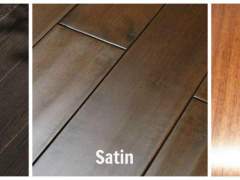 In addition to disadvantages and advantages of bamboo flooring, ne should be familiar with the variety of colors and textures of this stylish flooring. Differences in the structure of the board and will change the appearance of the entire room.
By design, there are three kinds of bamboo flooring:
three-layer bamboo parquet;
massive horizontal flooring;
mosaic bamboo parquet.
Mosaic bamboo parquet is characterized by rectangular shape and may be circular, square, polygonal. Mosaic parquet flooring is rarely used on the floor, often it is used for decoration.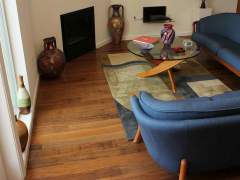 The structure of horizontal and vertical bamboo flooring is not very complicated. In the first case, the shaded strips are stacked parallel to each other. It looks like floor imitates stems. During the production of the flooring, the planks are placed vertically on the brink and are compressed under high pressure. This coating has an intricate pattern.
By type of covering lacquer bamboo floor can be matte and glossy. Sometimes you can see the range and a variety of bamboo flooring called "semi" (semi-gloss). The most common colorings are natural bamboo floor (without any treatment) and "coffee" (this shade is achieved by heat treatment). In addition to the heat treatment, many manufacturers use various techniques of staining. Recently, such names of the bamboo parquet flooring as the "jungle", "zebra" or "tiger" (natural one + "coffee"), "Milan" (steel shade), "Province" (very light shade) have become quite popular.