The insulation should be applied to the whole building, but in general facade has the leading position there. Firstly, you need to think about the external wall insulation.
What is the external wall insulation, and why is it needed?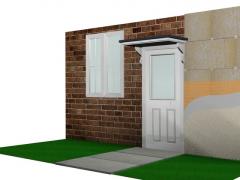 One of the main elements of the heat saving is the external wall insulation, because it constitutes the bulk of the external surface area, and a significant percentage of produced hear leaves a building through it.
To achieve maximum effect, you need a complete insulation of external home structures. For example, the wall insulation will lead to the internal temperature increase and interfere with the wind blowing of warm air. The high-quality external wall insulation helps to save up to 45% of usually consumable heat. This is especially beneficial to those who heat their houses on their own, because they directly reduce their money consumption.
Thanks to these measures you will be able to save considerable resources and protect the environment of the country from harm caused by boilers and other facilities of producing heat. But most importantly, your house will be warm, and thus all the occupants will be safe.
The thermal insulation is applied in the case of exterior wall thickness is not sufficient and it is necessary to create additional barriers to protect it from atmospheric aggression. In addition to the low thermal conductivity, all kinds of walling-heaters have sound insulating properties, some act as a hydro barrier. Additional protective layers can be arranged on the outer or inner side walls. In addition, the insulating material can be laid inside a wall.
Types of external wall insulation
Depending on the method of transferring heat, the insulation has two types:
Preventing
Reflective
1. Preventing insulation significantly reduces the heat transfer due to its low thermal conductivity. Thermal conductivity is the property of any solid body to conduct the heat. A coefficient of thermal conductivity is one of the main characteristics of any insulation type, and the smaller coefficient is the best. We can say that low thermal conductivity is a good indicator of the insulation. This type of insulation is the most used in the construction.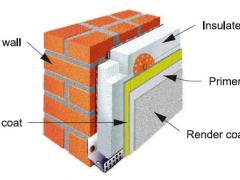 Preventing insulation is divided into following types:
insulation on the inorganic basis;
insulation on the organic basis;
insulation of mixed type.
2. Reflective type (foil insulation) protects the building from heat losses that occur due to thermal radiation (the ability of a body having a temperature above zero emit heat waves) by the high reflectivity of the foil, which is part of the insulation.
Inorganic based insulation
Inorganic based insulation includes materials that are based on inorganic minerals: glass, asbestos, metallurgical slag, various rocks. As a result, we obtain a well-known building insulation, like:
mineral wool insulation;
lightweight concrete on the basis of vermiculite or expanded perlite;
heat-insulating cellular concrete;
foam glass;
materials based on ceramic and asbestos.
Organic based insulation
Organic based insulation includes materials, which are based on organic. Since organic is a compound of carbon with other materials, the basis for such heaters comprise hydrocarbons, such as plastic, styrene, polystyrene, polyethylene.
In addition, this group of thermal insulation materials consists of heaters, which basis is natural organic: agricultural waste, wood waste, linen linters, hemp, peat and even wool.
Let us consider in more details the most popular ones:
Polyurethane foam insulation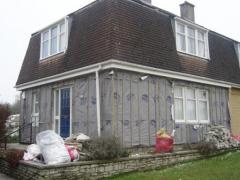 Polyurethane foam insulation in other words is one of the plastic types. It consists of polyester, water, emulsifiers, and diisocyanate. It has a cellular structure, 90% consisting of a gaseous substance.
Styrofoam
Styrofoam or foam board is a thermal insulation material consisting of granules from 3 to 10 mm. These granules include 98% of air and only 2% of polystyrene (a product of petroleum refining). This is a cheap insulation, which makes it very popular among sellers of building materials, as well as among consumers.
Ecowool
Ecowool is a heat insulating material, consisting of 80% of recycled paper supplemented with 8% antiseptic (boric acid) and 12% flame retardant (borax). Thanks to the last one component ecowool does not burn, it can not get any rodents and mold, and it is an absolutely non-toxic, safe for the health insulation.
How to install external wall insulation?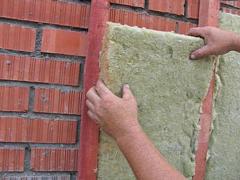 The insulation installation of facades is carried out using polymer-adhesives, which should be applied to the insulation. Further you have to provide reinforcing mesh on the surface of the mandatory installation and then a final topcoat. A serious insulation can not be achieved in such a way, however, for the southern climates this method is very suitable as a quick, inexpensive and very environmentally friendly choice.
Methods of how to add exterior wall insulation vary depending on their type and locations. You may choose the installation method among the following:
Three layers hollow brickwork technology today is one of the most popular. Insulation covers the base of a wall, in turn, closes its finishing material – three layers are obtained.
Heavy facade plastering provides the use of additional moving fasteners, as well as, of course, a thicker layer of plaster.
The best option is a ventilated facade, which provides the presence of an air gap between the lining and insulation material.