Here is the most common information on laminate types based on the load categories and on the upper surface of the flooring, as well as overlays types.
Laminate types are usually classified based on the load categories and on the upper surface of the flooring. Here is the two most common classifications for the types of wood laminate.
Laminate types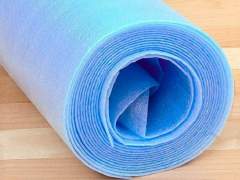 Based on the load categories the laminate flooring is traditionally divided into:
high class
medium class
light class
For conference rooms and meeting rooms it is better to use the light class one; the medium one is better to be used for classrooms, receptions or offices; and the high class one it is better to be used in sports halls, cafes, bars, restaurants and shops.
Based on the upper surface the laminate flooring is traditionally divided into:
traditional surface
natural
glossy
"waxed"
textured
country style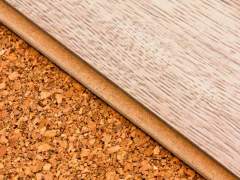 Traditional surface resembles timber covered the silky-lacquered varnish – being even smoother – in its structure. Its pores are very similar to real timber.
Natural type is no different in its structure from the traditional one, but its performance is more qualitative. The sheets are increasingly similar to real wooden parquet. The surface is also smooth, but it has a silky shine. The pores are located precisely in accordance with the pattern.
Glossy or satin-gloss surface looks like timber covered glossy lacquer, it has highly noticeable shine. Its top layer is very similar to the wooden material.
"Waxed" surface resembles natural timber which has been treated with wax. It is smooth and the pores fell like being filled with wax. It has great shine, too.
The flooring with textured surface resembles wood fibers. It is very similar to the parquet floor, as all the pores are performed synchronously. A variation of this type of laminate flooring is the "embossed" one, it is characterized by longitudinal roughness performed symmetrically, but repeating the pattern.
The "country style" flooring is reminiscent of natural wood with a smooth and even surface which does not shine. The total visual perception does not cause discomfort while being viewed. It has a non-uniform surface representing roughly treated wood. This approach resembles the manual work done with the help of the "old school" methods. This type could also be considered as the so-called "weathered" laminate flooring with antique surface. Looking at it, at first glance it seems that you look at real timber that had perfectly served its masters for decades. The sheets are performed in a very neat way, and it seems that they are brand new and covered with oil or varnish.
Laminate flooring underlay types
Cork
This overlay is made of the pressed chips of oak bark. The product may be all natural or to be mixed with rubber or bitumen.
Advantages: it's environmentally friendly, it's almost not compressed under load, it's durable, it improves sound-proofing quality of the laminate. It also hides the uneven rough ground better than any other coating.
Disadvantages: it's afraid of water, it's not recommended while installing floor heating, it's very expensive.
Polyethylene foam
Polyethylene foam overlay sometimes can also be divided into several types, depending on the foaming process, which have quite similar characteristics.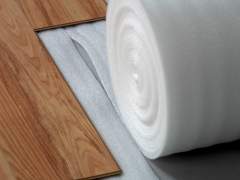 Advantages: it increases the flooring resistance to moisture, it has low thermal conductivity, it has inertness to chemicals and bacteria. It also has good occupancy rate, low weight. It's easy in use. It's cheap.
Disadvantages: short life, tendency to lose its shape, sensitivity to UV rays.
Expanded polystyrene
Polystyrene overlay typically consist of two layers of foil and polystyrene.
Advantages: it's easy to be stacked, it's the perfect choice for the rooms with underfloor heating, the base hides minor flaws quite successfully.
Disadvantages: it may eventually lose its form.
We hope this article helped you to get proper information on laminate types, as well as overlays types.