Here is the detailed information on the most modern type of flooring – HPL – its definition, characteristics, antibacterial properties and differences from other coatings.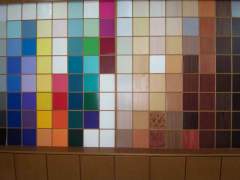 High pressure laminate (a.k.a. HPL) is a material with unique physical characteristics, which is ideal for walling cleanrooms. At its core it is still laminated flooring, but the board is impregnated with thermosetting resin, laid in layers in the sheets of a specific format and sintered under the influence of the right temperature and pressure. Facial layer of the laminated coating forms a special cladding – decorative paper impregnated with melamine resin, so we can deal with high pressure decorative laminate. Typically, manufacturers produce HPL in the thickness range from 0.8 to 25 mm. Sheets are self-supporting and are classified as so-called "compact laminate".
HPL has the following characteristics
Exclusive resistance and steady to physical influences
Shock and scratch resistance of this material is truly unique. In fact, the melamine resin that protects the front side of the laminate is one of the strongest of man-made materials ever invented. To damage facing layer of HPL seriously, you need to arm it with a sharp object making significant effort.
Resistance to disinfectants
HPL in its standard version is extremely resistant to the active chemical compounds and disinfectants. However, some manufacturers agents released specialized types of HPL (in order to further enhance the material's resistance to chemicals), in a specific manner, for use as a chemical laboratory countertops.
Antibacterial and natural properties
Due to its antistatic nature, HPL has natural antibacterial properties. In the clean rooms under conditions of high air changes the friction of air masses interacts with the walls. The friction gives rise to a static, whereby the walls pull dust. This dust is a crystallization point for active growth of pathogenic bacteria. HPL is antistatic – it does not pulls dust and does not contribute to growth of bacteria on its surface. In the market from time to time they produce new types of antibacterial HPL c reinforced for use in homes (kitchen worktops, children's furniture, etc.). Releasing it on the market, they even call it "antibacterial coating".
UV stabilized
Please be aware that the HPL can be of two types according to the degree of its sensitivity to UV:
) or outdoors
) for indoors
The difference is that the facial HPL layer structure implemented for outdoor use has special film protecting against UV rays. Foe example, for clean rooms for medical purposes where germicidal lamps are used, you should use only HPL for outdoors – over time this product is guaranteed not to change its color and surface structure.
Design features
Due to the fact that the front layer of the laminate decorative paper forms stylish elements of the interior, an engineering companies working on the design finds a large arsenal of colors, patterns and textures that can be applied to HPL. This feature is particularly important for the interior design teams in order to create the most comfortable areas.
Previously listed benefits put HPL a cut above other coverings for cleanrooms. It is safe to say that HPL is the best, by far, material for finishing the rooms where you necessary need to have purity (children's rooms, kitchens, dining rooms, medical facilities, etc.).